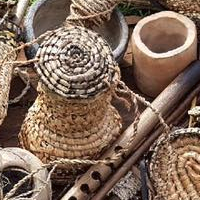 When: 
Saturday the 12th of August
Where: Kitchen Level, Chrysalis School
The workshop will be held by Ingrid Ridley
cost: $100 (includes all materials)
Please bring a plate to share for lunch. 
A $50 deposit is required to reserve your place.
BARE Weaving Workshops birthed from Ingrid & Kate's passion to share traditional basket weaving skills with local women in the North Coast of NSW.
We focus on weaving with local native plant fibres and only dye with natural materials. Joining us for a workshop will connect you with an ancient tradition of women's wisdom and immerse you into a deeper connection with your local environment.
During the day we will cover: native fibre identification, responsible harvesting and processing in the local environment, natural dying and traditional coil weaving techniques. 

Ingrid Ridley: I have been living part time on Rorruwuy Homeland Community in North East Arnhemland since 2009. Through living as a family member during that time I have been taught much about Yolngu culture by the people of Rorruwuy and the surrounding communities. As well as learning Yolngu language, medicine, ceremony, food gathering and preparation, I have been privileged to learn all facets of traditional Yolngu weaving practice. Returning to my other home in Tamban on the boarder of Gumbaynggirr and Dhungatti country, Mid-North Coast NSW, I have worked to translate my learning to the plants available in this environment.