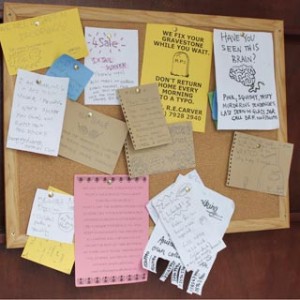 Please check directly with listed organisations for any changes due to COVID restrictions.
SEA and Sydney University OnCon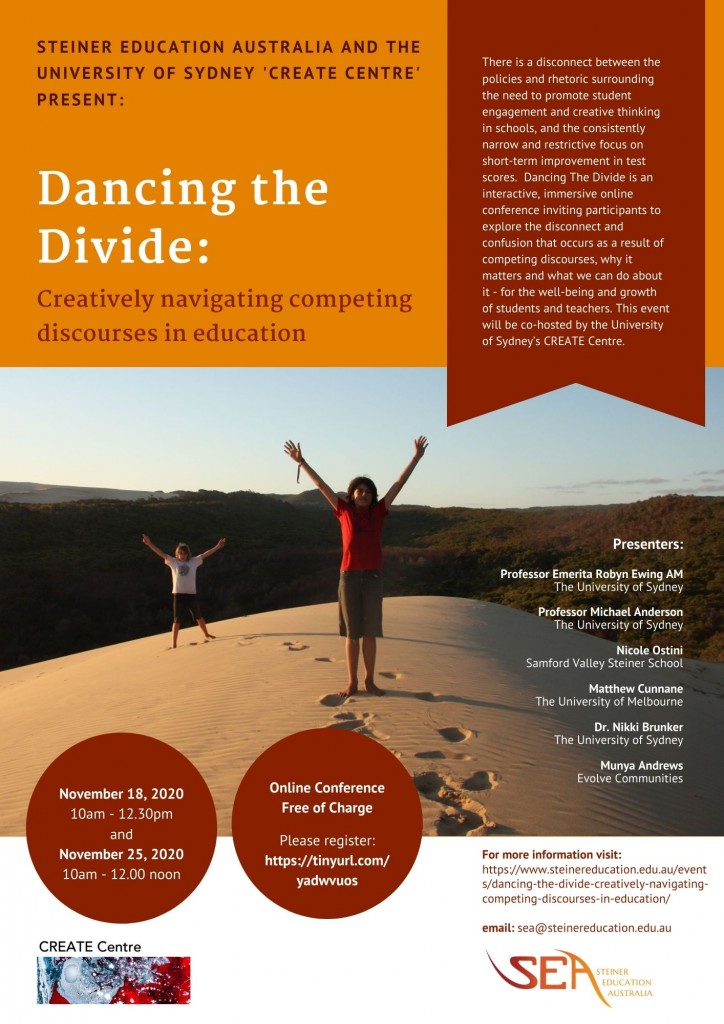 Tomorrow's Change Makers Program
OzGREEN are pleased to announce the Tomorrow's Change Makers Program is back in 2020 with a slightly different focus. This year the program will run a little like an Eco Club for 12-18 year olds with weekly sessions at the Youth Hub on a Tuesday from 4-6pm. OzGREEN members myself, Kathleen Hannah, and Stella Rees, will support our environmentally minded youth to come together, plan and carry out their own community projects and thanks to funding from the NSW Department of Community and Justice we can offer the program for FREE.
The funding we have received covers the following projects (but we are not limited to these ideas alone):
– indigenous native plants,
– a youth-run nature club,
– a sustainability festival,
– a repair workshop,
– an outdoor youth space
The Tomorrow's Change Makers Program
Starts: 3rd Nov 2020
Meets: Tuesdays 4-6pm, Bellingen Youth Hub, afternoon tea will be provided
Registrations for this program are essential and parental permission must be given for youth under the age of 18. The Registration Form can be found at www.ozgreen.org/tcm2020. Please note there are limited positions available for this program.
If you have any questions about For more information please contact Kathleen at kathleen@ozgreen.org.au or on 02 5615 8108.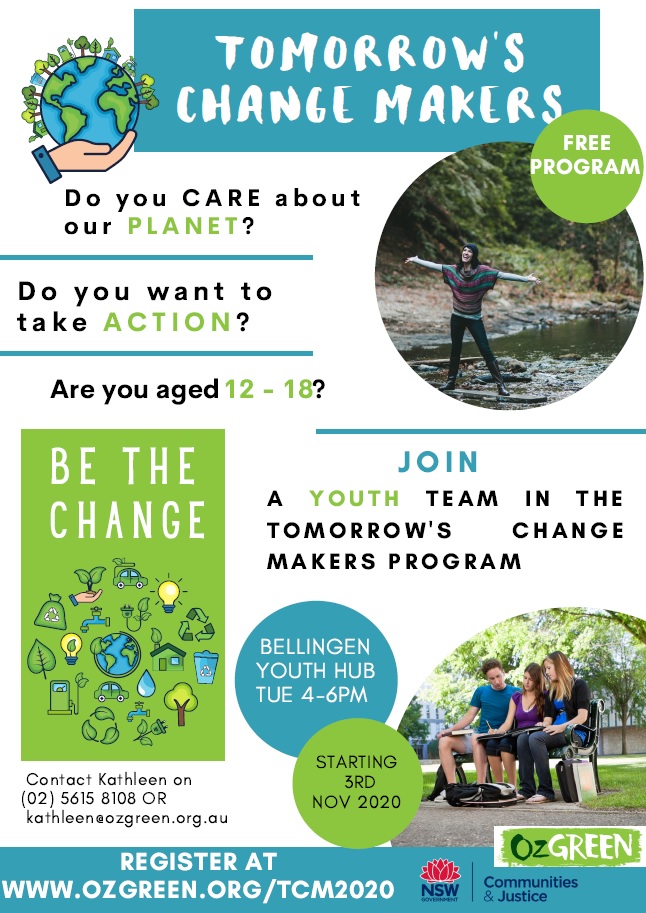 Chrysalis family looking for a rental
Hi everybody, we've been issued a termination notice at our place at Boggy Creek because our landlords are coming home from overseas unexpectedly.  We have two months to find somewhere else to live, so please, if you hear of anything about a place to rent for two adults and three kids (17,13,9), please let us know: Melissa 0472626366; Miles 0427458045.  We had planned on bringing home a puppy in four weeks' time, but would be prepared to shelve that plan if there were no pets allowed.  Thanks, Melissa and Miles (parents of Malachy, Sylvie and Reminy).
Recognise Respond Refer
Domestic and Family Violence Response Training (DV-alert) is designed to build capacity in frontline workers within universal services for whom family violence is not a core function of their role.
Learn how to:
recognise the signs of domestic and family violence
respond with appropriate care
refer effectively to support services
Upcoming workshops:
Click the video below to find out more.
For more information visit: https://www.dvalert.org.au/about/why-dv-alert
Dorrigo Cricket Club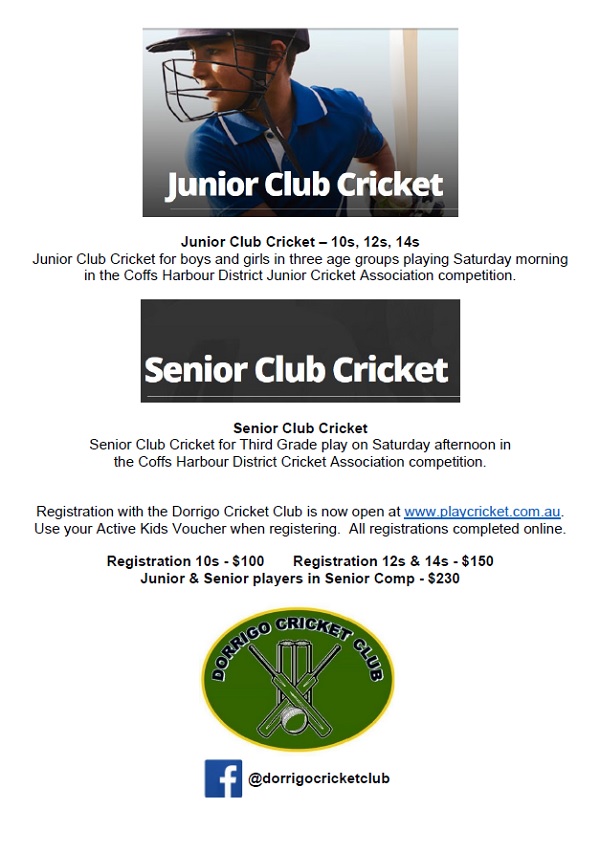 Kids Yoga in Bellingen
Kids yoga is FUN! It is a creative, imaginative way to develop a healthy mind and body. Yoga develops social, emotional and physical well-being in kids. We play and learn in a safe, non-judgemental, engaging environment that promotes risk taking, challenges, positive interaction, connection, awareness, laughter happiness and resilience. Marcia is a secondary teacher and has been a practicing yogi for over 20 years. She studied Purna yoga at Byron Yoga Centre in 2016. In December of 2016, she trained with Angela Tonkin and Rainbow Kids Yoga to become a children's yoga teacher. She has taught yoga for ages 3-18+. She is humbled to be able to provide a safe and fun space for her younger students to explore their physical, emotional and spiritual selves.
Kids' Yoga is coming to Wednesday afternoons at YogaBellingen! 
(1/15 Short Street, Bellingen – behind the gelato bar)
Years K-2 is Wednesdays from 3:45 pm – 4:15 pm
Years 3-6 is Wednesdays from 4:45 pm – 5:30 pm 
Cost is $90 for 9 classes and Active Kids vouchers are accepted.
More information and sign up here: https://yogabellingen.com/class-timetable/ Spaces are limited and booking is essential. 
Rhythmical massage with Charlotte
Hello Chrysalis Community
Just to remind you all that I give a range of Anthroposophical treatments including rhythmical massage, therapeutic oilings, compresses and foot baths to address all ailments both physical and emotional.
My practice is situated three kilometres from the post office: 195 North Bank Rd. My rates are reasonable and I am open to discuss discounts. I have forty years of experience behind me and enjoy working with children and adults.
Tel 0402469699 for an Appointment or to discuss further enquiries. Charlotte Rogers
Slab building workshop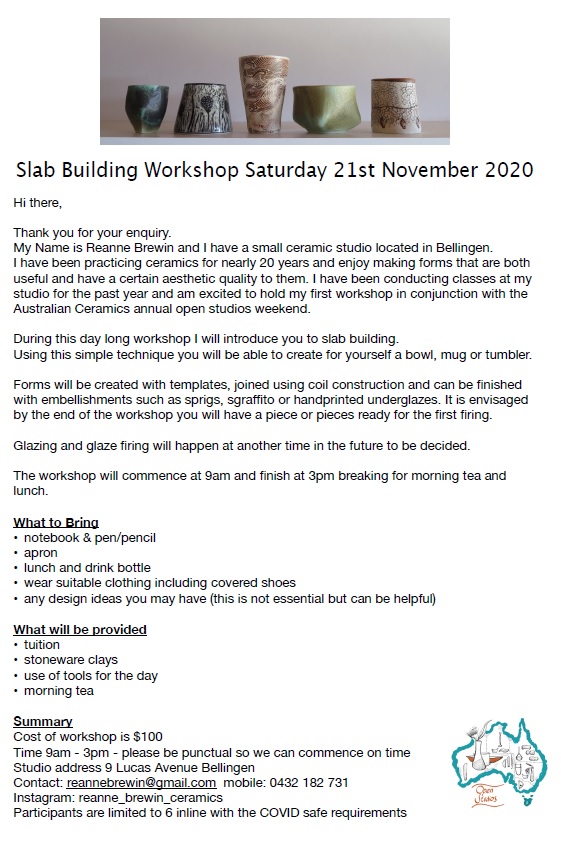 i love bello shire website and e-newsletter
For prospective and existing parents alike, the i love bello shire website and e-newsletter are great resources to receive all the local information about what is happening in our shire!