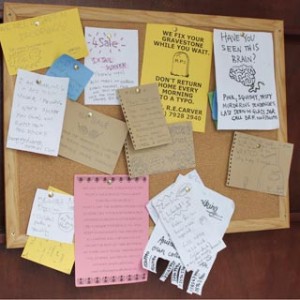 Tropical North Steiner School raises funds
Greetings from Tropical North Steiner School!
We are reaching out to our fellow Steiner families to inform you that our beautiful School will be opening its doors in 2021 with the humble beginnings of seven students.
We are situated in Mossman, Far North Qld, on the lands of the Kuku Yalanji Aboriginal people, between two ancient World Heritage Areas, The Great Barrier Reef and the Daintree Rainforest.
A small group of community members are working tirelessly, driven by a strong impulse and a community spirit.
To ensure we can open with sufficient funding, we have started a GoFundMe page seeking the financial support.
We are writing to invite you to join us on our journey of discovery, building strong foundations for our opening year.
Once we settle into our new school, updates of our progress will be shared with our support community. And we hope that one day, those who have made all this possible, will allow us to welcome them onto our school site and into our hearts!
We thank you in advance for any donation you can offer via our GoFundMe page.  – gf.me/u/x6djva
Warmly
Julie Verri
Board Director
Tropical North Steiner School
Breastfeeding photoshoot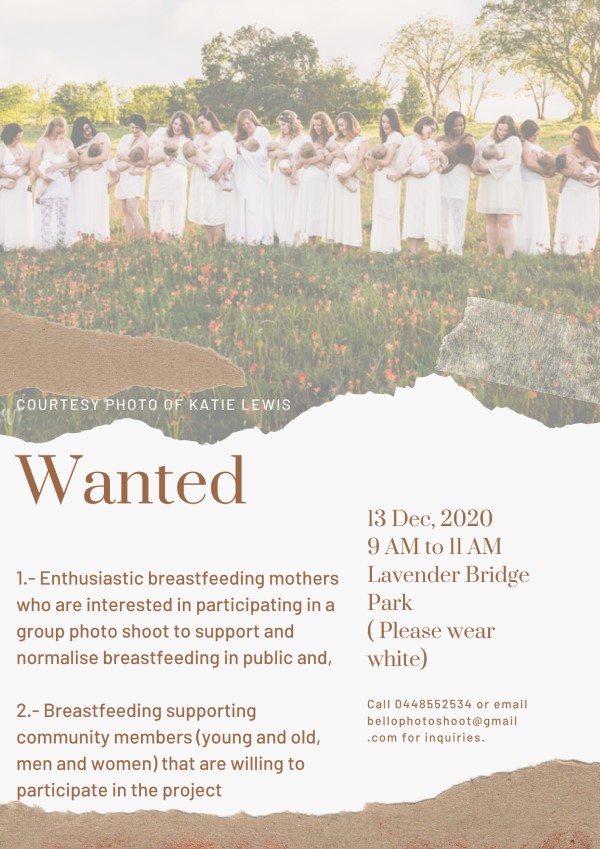 Sid and Kamala's play!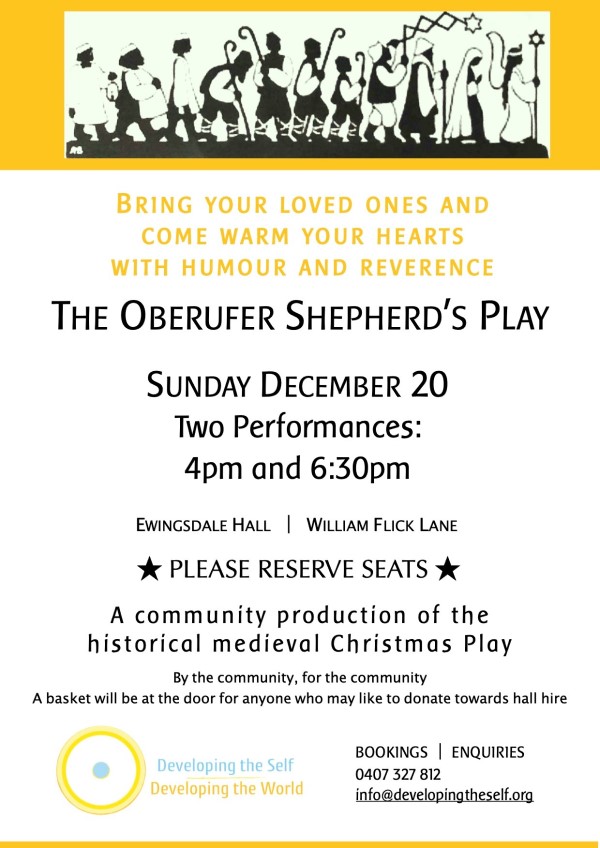 Wellbeing workshop for kids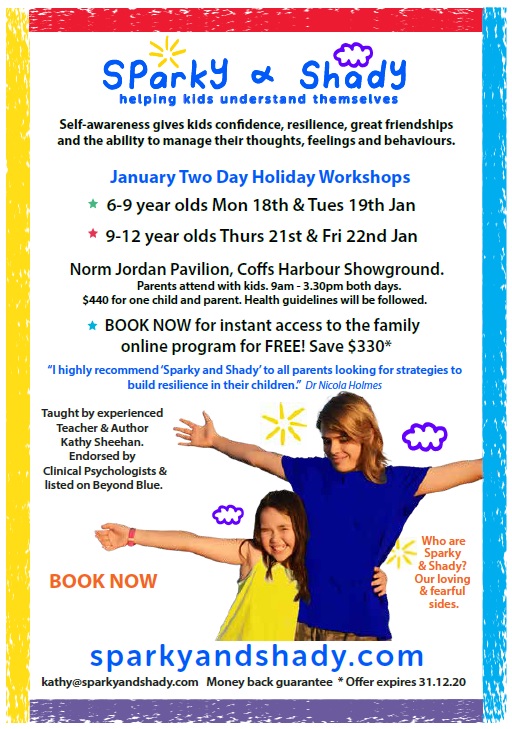 Circle of Girls for 2021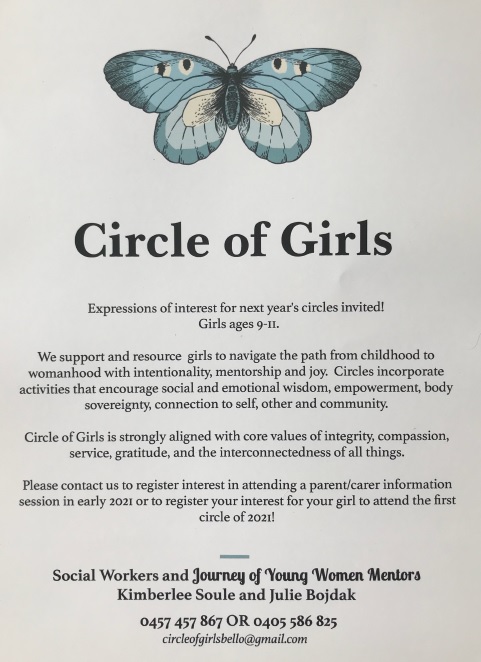 Rhythmical massage with Charlotte
Hello Chrysalis Community
Just to remind you all that I give a range of Anthroposophical treatments including rhythmical massage, therapeutic oilings, compresses and foot baths to address all ailments both physical and emotional.
My practice is situated three kilometres from the post office: 195 North Bank Rd. My rates are reasonable and I am open to discuss discounts. I have forty years of experience behind me and enjoy working with children and adults.
Tel 0402469699 for an Appointment or to discuss further enquiries. Charlotte Rogers
Dorrigo Dramatic Club
We are seeking a maximum of 15 young folk aged eight years and over to attend a workshop of drama games and techniques on Sunday 13 December 2020 at the Old Dorrigo Gazette Theatre from 1.00pm to 3.30pm.  You will be skilled up to present drama activities to participants on the Kids Off Stage Drama Trail to be held from 9.30am to 11.00am on Tuesday 12 January 2021 at four locations around Dorrigo as part of Bellingen Shire's Arts Week 2021. For more information and to book for the workshop, please contact Kate Smith on 0407994699.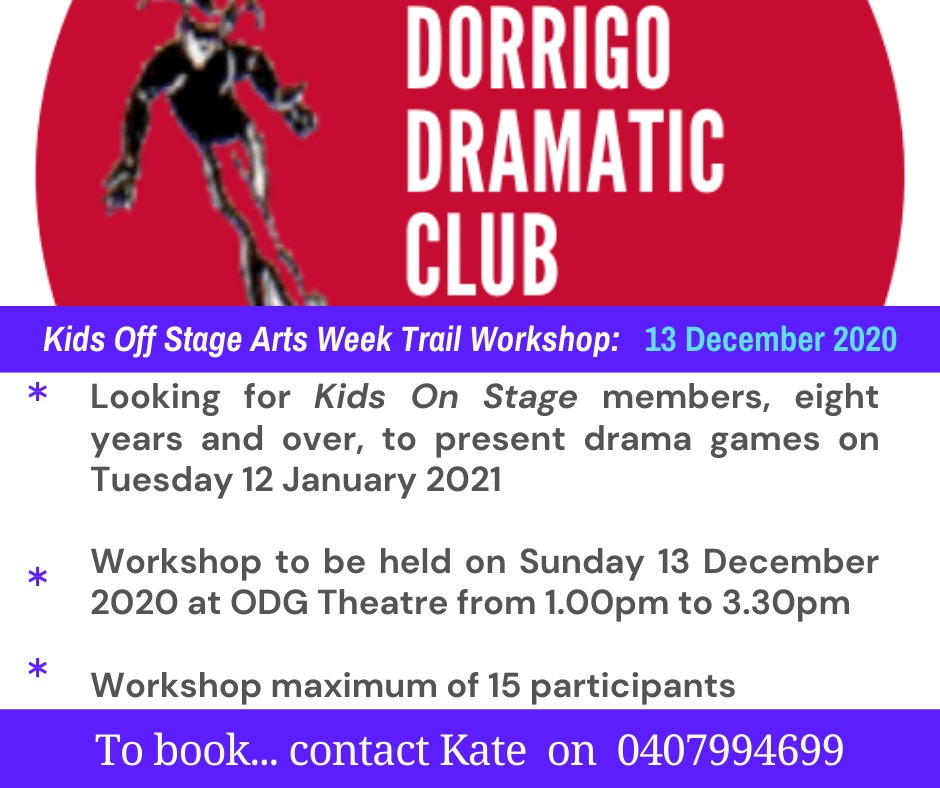 Your Health Link Photographic Competition
Now in its fifth year, the Your Health Link Photographic Competition is open to students from every
primary and high school across Australia and will launch on 1 December 2020 with the theme:
'We're all in this together – keeping safe and healthy during the pandemic'
This year's theme provides an opportunity for students to learn about health guidelines during the
pandemic via the competition website – wearing masks, washing hands, social distancing, staying home
when feeling ill and how these guidelines prevent the spread of COVID-19.
The Competition will enable students to artistically express their knowledge and weave the principles of
keeping safe and healthy during a pandemic into everyday life.
There are two categories for primary and high school students, entry is free, with individual prizes for
category winners including a cash prize to support their school's healthy school canteen program. There are
also opportunities for the whole family to participate through the Mobile and Open categories.
The Competition closes 24 January 2021 with winners announced in March 2021.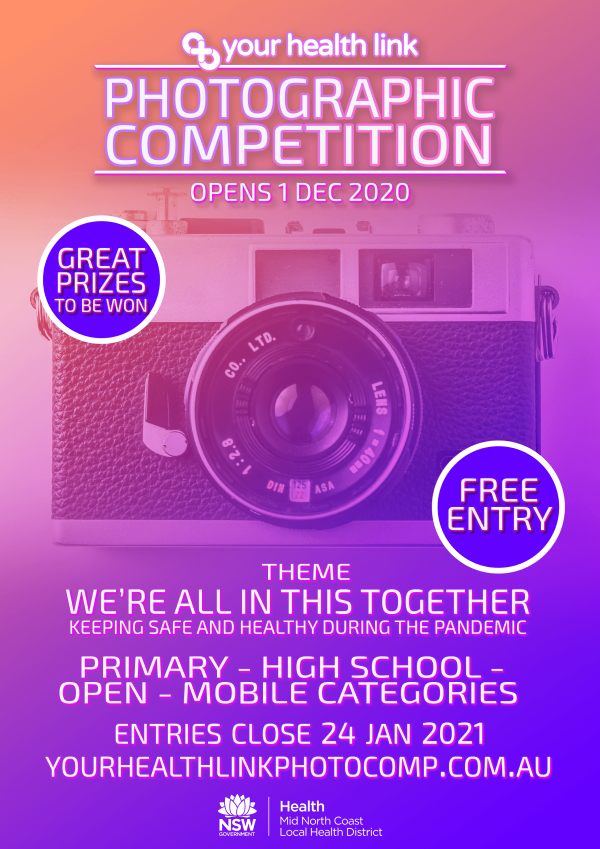 Melbourne Rudolf Steiner Seminar events
We have a number of live streaming events coming up, and we hope these events will help interested people find the right course we have on offer in Rudolf Steiner Education in 2021.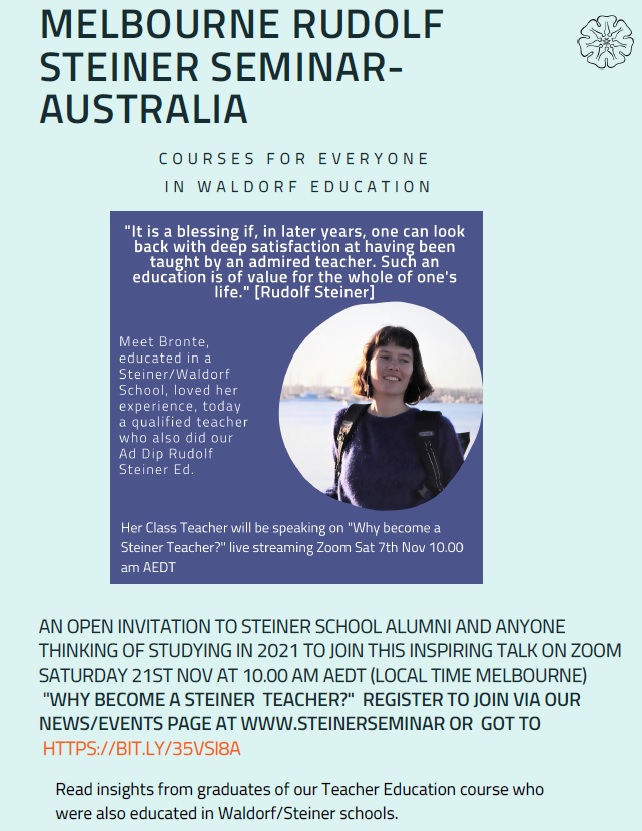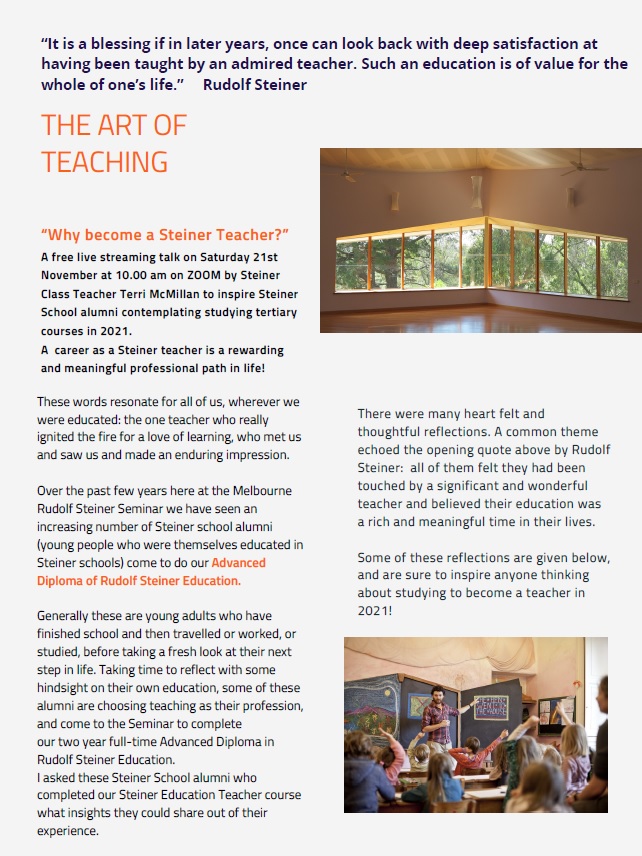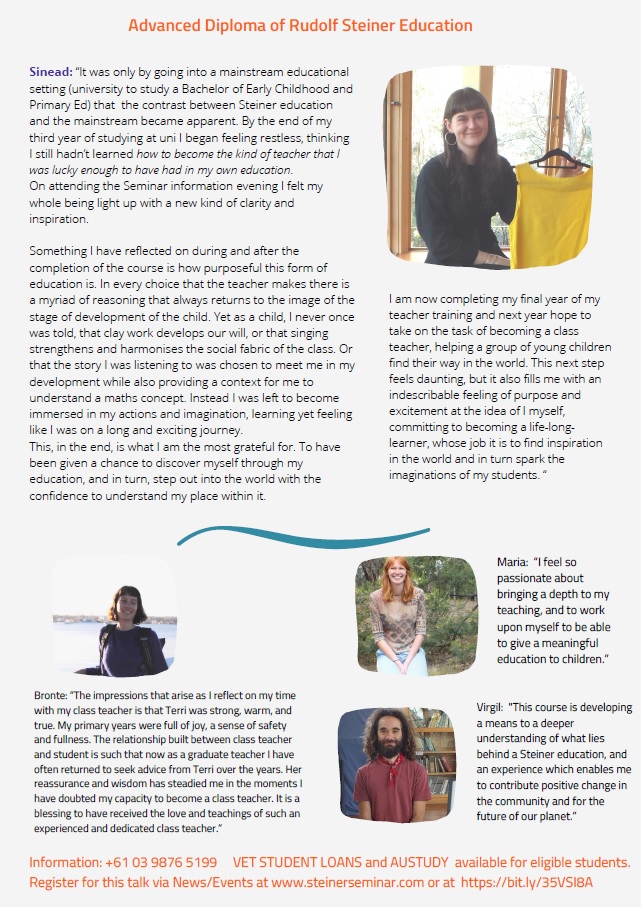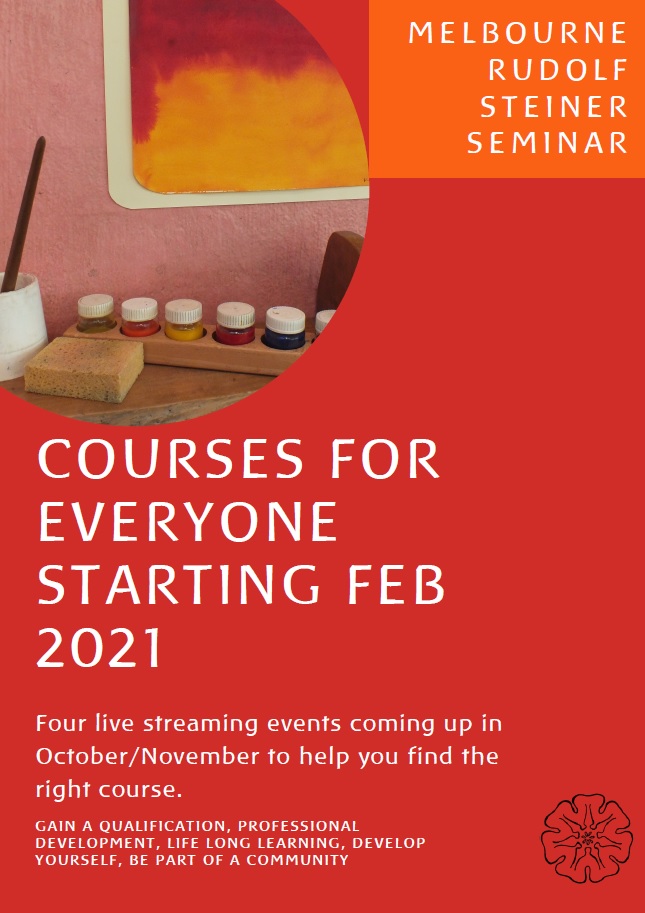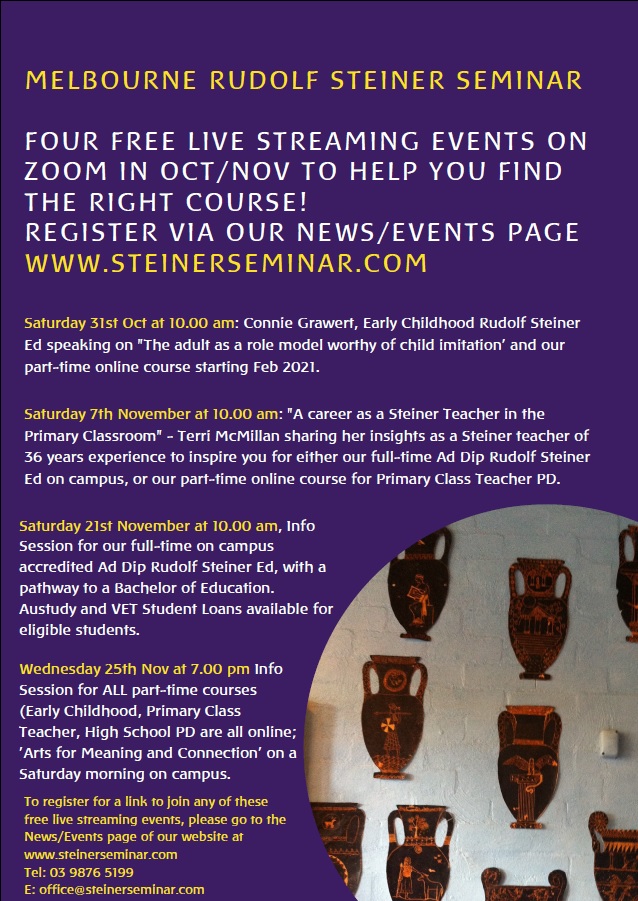 2021 Enrolments Are Open for our NEW Courses!
Enriching Soul Experience – a New Nurturing Early Childhood Course https://sydneyrudolfsteinercollege.com/course/nurturing-early-childhood-weekends/
Sydney Rudolf Steiner College is offering a new Nurturing Early Childhood course in 2021. Come and experience four nourishing weekends!
Each seasonal weekend begins with inspiring and stimulating talks based on the philosophy of Rudolf Steiner, followed by artistic and craft activities that feed our inner desire to be creative as well as develop our skills for home or education environments. Especially designed for new Steiner parents, carers and assistants.
Our students' beloved tutors Ebba Bodame, Catherine Pilko, Meg Quinlisk, Sandra Frain, Evan Sanders, Julia Byrne and Adam Chan will be engaged in these weekends.
Enrol now and find out our special discounts to support all teacher trainees!
To get more details, please email: earlychildhood@sydneyrudolfsteinercollege.com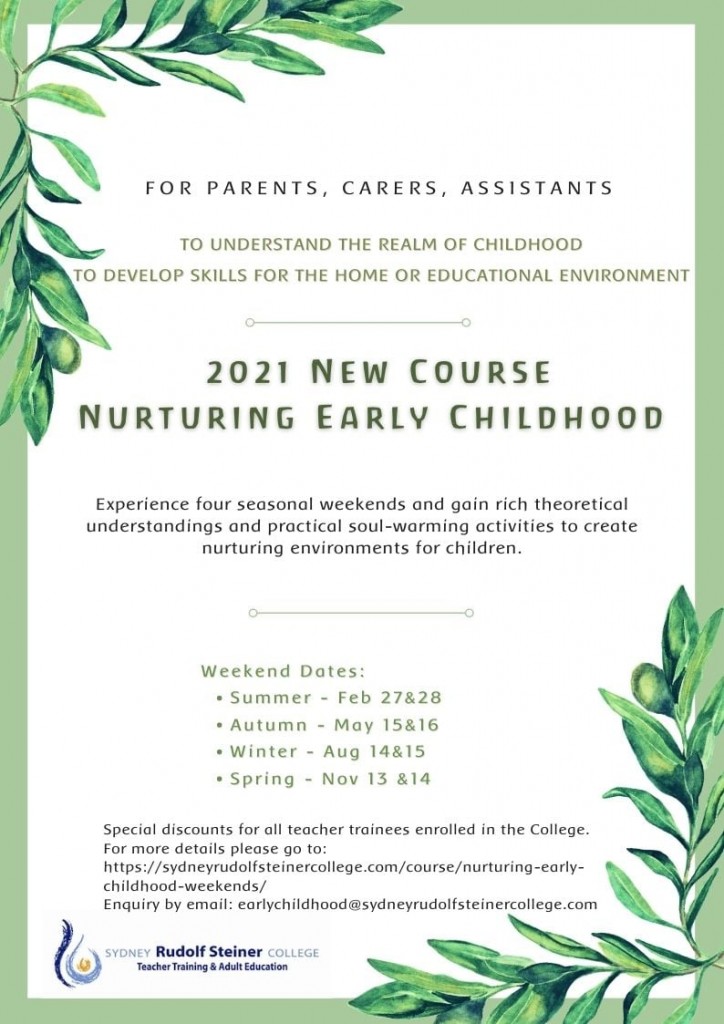 ENROLMENTS ARE OPEN NOW FOR OUR 4 NEW BLENDED – LEARNING TEACHER EDUCATION COURSES!
As of 2021, Sydney Rudolf Steiner College will be running Rudolf Steiner teacher education (early childhood and primary) via a combination of online weekly, term-based lectures and bi-annual four-day training intensives.
This new course delivery format will enable us to build more engagement with our students by having a regular weekly lecture night.
In addition, the 4-day bi-annual intensives will give students a deeper experience of pedagogy, anthroposophy, artistic practice and personal development.
We very much hope to run the intensives in Sydney, in-person but are also committed to running them online should we have to.
For more information on the Foundation Early Childhood course,  please see
https://sydneyrudolfsteinercollege.com/course/ecf-steiner-education-early-childhood-teaching-foundation/
For more information on the Primary Teacher training course, please see
https://sydneyrudolfsteinercollege.com/course/steiner-education-primary-teaching-foundation/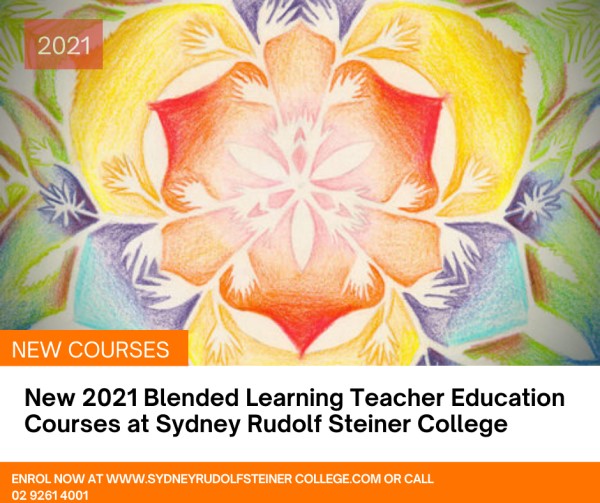 We would love to hear from you so if you have any queries please call Sydney Rudolf Steiner College on 02 9261 4001.
Putting the World Back on Its Feet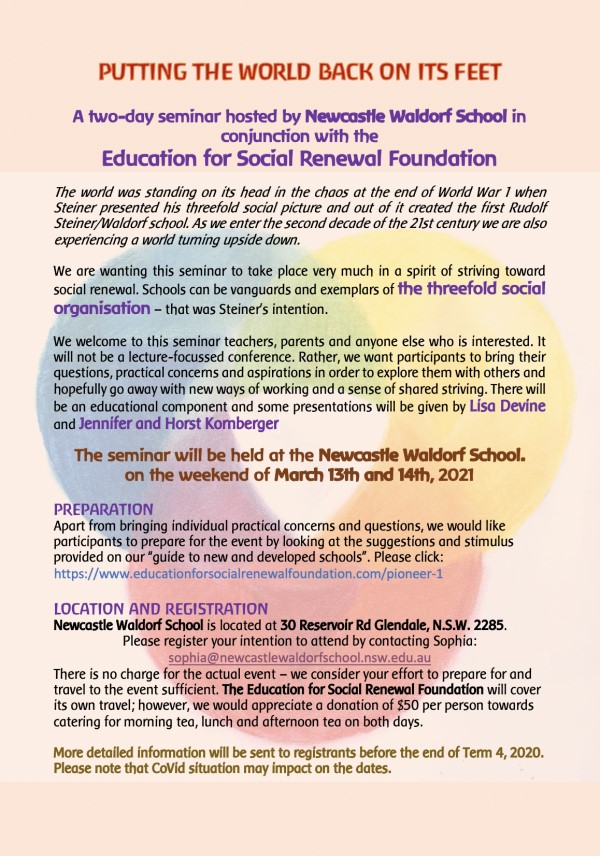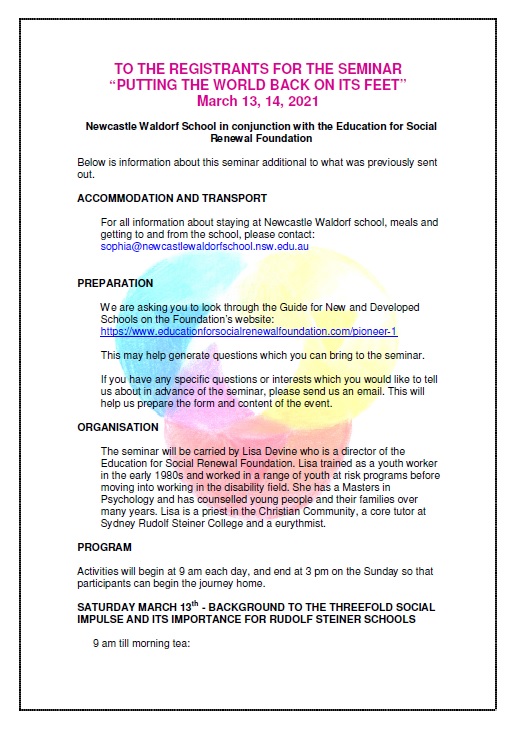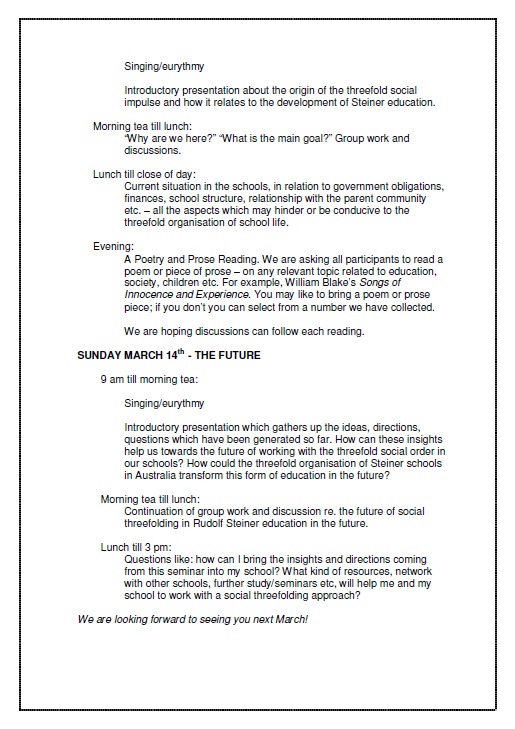 i love bello shire website and e-newsletter
For prospective and existing parents alike, the i love bello shire website and e-newsletter are great resources to receive all the local information about what is happening in our shire!