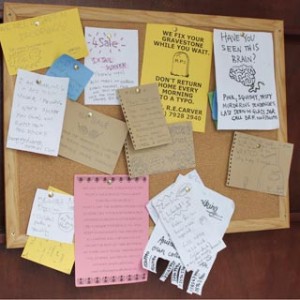 Parissa Bouas gig in Bellingen with Class 8 teacher, James
Parissa Bouas & the World Citizens will be putting on a show at the Cedar Bar on Saturday 24th of August from 7pm.
They will be performing with a killer line-up of great musicians including: Parissa Bouas, Greg Lyon, Oliver McGill, James Pattugalan, James Ross so it's certainly going to groove!!!
Expect an irresistibly unique mix of jazzy + pop + world music… moving from deliciously, sensuous slow tunes in the first set to put on your dancing shoes in the 2nd!!!
For more information about what they will be bringing to town check out the links below.Get your tickets at Sticky Tickets:
https://www.stickytickets.com.au/91065
Camp Creative Scholarships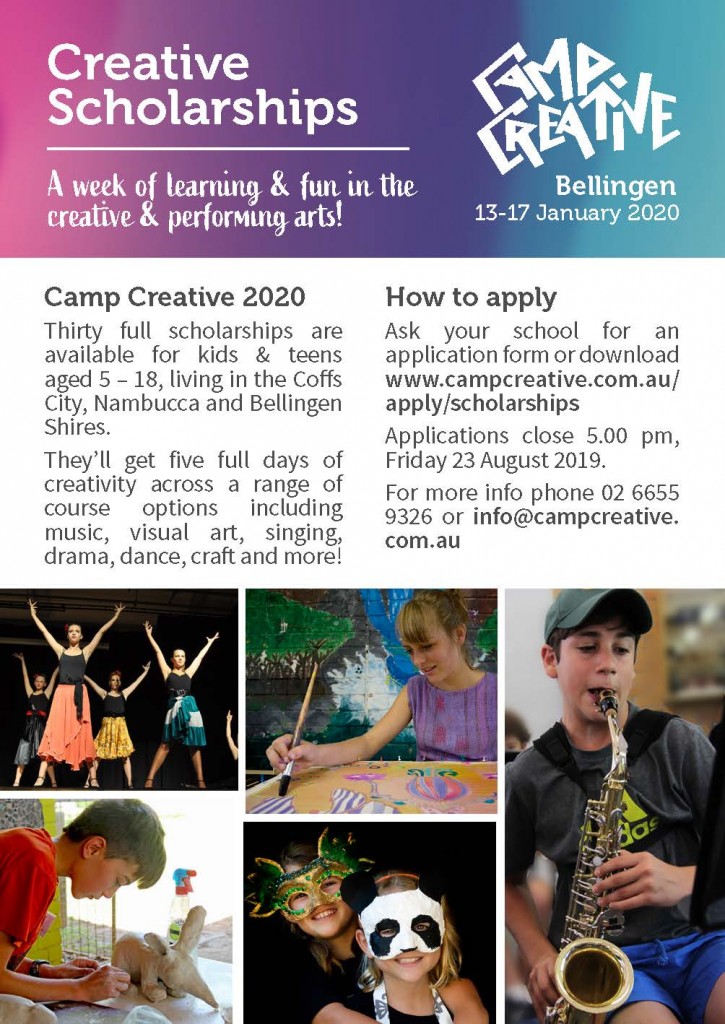 Bishop Druitt Boys Year 9 uniform for sale
BRAND NEW.  The lot for $200 (worth over $500) or will separate for half retail price each item.
Includes shorts, shirts, bag, hat, socks, blazer, sports uniform.
Contact Kath 0412 580 621
One Act Play Season
Dorrigo Dramatic Club presents and evening of entertainment and one act plays at the Dorrigo Old Gazette Theatre. Opening night on Wednesday 28 August at 7.30. Bookings at Dorrigo Wholefoods 66571002. See poster for details.
International Nature Connection expert Jon Young events
Some of Jon Young's material is already used in the school: sit spot, story of the day, bird language and so on.
See the following links for upcoming events:
Holistic Tracking
Experience the ancient art of tracking and the journey to full aliveness
with Jon Young
October 15 – 19, 2019
Hawks Nest (Mid North Coast), NSW
https://www.artofmentoring.com.au/holistic-tracking/
Music, Nature and Storytelling
Celebrating our collective story and song on the land
with Jon Young
October 21 – 25, 2019
Hawks Nest (Mid North Coast), NSW
https://www.artofmentoring.com.au/music-nature-and-storytelling/
5 a side Indoor Soccer
Coffs Harbour Futsal Centre at 32 Industrial  Drive, Coffs Harbour,  is now signing on for the summer futsal (indoor soccer) season starting September. Programmes start from three years old going through to adult competitions.  To register for the new season please go to www.australianfutsal.com or for any enquiries email coffs@australianfutsal.com or ring 1800FUTSAL.
Your Health Link National Photographic Competition- NOW OPEN
Photographers of all abilities are encouraged to enter the Your Health Link National Photographic Competition, which opened on 19 August.
The prestigious competition is run by the Mid North Coast Local Health District, as part of the Your Health Link initiative, a strategy aimed at enhancing community understanding of health and health care information, and how people can apply that information to their lives.
The competition offers a host of prizes in the categories of Mobile Photography, Open, Primary and High School and includes prizes to support healthy school canteen programs.
Visit the competition website for more information: yourhealthlinkphotocomp.com.au
Budding Artists Festival on again in October
Second Active Kids vouchers available
Office of Sport have recently released a second $100 voucher which will be available from the 1st of July for kids to try another sport or a second term of an existing sport.
Heartwood, Site for Transformative, Arts, Culture, Science
Heartwood is a free association of scholars, artists, researchers and educators working out of Anthroposophy. Heartwood aims to provide an avenue of learning that seeks to communicate new ways of seeing and to initiate events on challenging themes of contemporary interest.
i love bello shire website and e-newsletter
A reminder to prospective and existing parents alike, the i love bello shire website and e-newsletter are great resources to receive all the local information about what is happening in our shire!