"The person that hath no music in him, nor is not moved with concord of sweet sounds, is fit for treason, stratagems and spoils."  William Shakespeare
As you walk through the beautiful grounds of Chrysalis School you can hear the sound of music most afternoons. It might be the sounds of singing voices permeating through the trees, the earthy vibrations of beating drums, the entwining melodies of the violin ensemble or the jazzy improvisations of the instrumental ensemble.
At Chrysalis, the intention is that the child's musicality goes beyond melody, harmony and rhythm; that music instruction is presented in such a way as to encourage musical living. As indicated by Rudolf Steiner, the dedicated integrated music program flows through the curriculum. Each child in the primary school makes and participates in music every day; with their class teacher, in chorus, in strings or in music class.  They are gaining not only musical skills and knowledge, but also a strong sense of musicality. Over time, the Music Program evolves so that the students are all performing in ensembles from classes 5 to 8.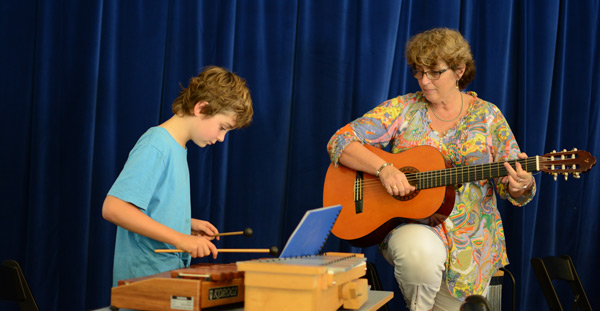 Class Music Program
Our rationale is to inspire children to have a love  and enthusiasm for music, while helping them to develop their musical literacy through the teaching and experiences of the different elements of music. All class teachers bring music to their students everyday, whether it comes during morning circle through songs and percussion, or through classroom recorder playing. At Chrysalis, a formal singing session for half an hour to 45 minutes per week has been implemented to provide instruction by a music teacher in choral work from Classes 1 to 8.
Formal Strings Program
In Class 3 the formal Strings Program begins
In Class 4 the class is involved in a String Ensemble on their own
In Class 5 the children who can read music and are progressing on the violin, will join the formal String Ensemble which is made up of students from classes 5, 6, 7 & 8. We have cellos, violas and violins. The recommendation for children continuing in the Strings Program in Class 5 is based on the following:

A child's affinity with the violin as an ongoing instrument at this stage
A child's interest in furthering skills and ability on the violin
A child's demonstration of being able to engage in a routine of effective regular practice
A child's ability to read music, (essential to the String Ensemble work)
Those class 5, 6, 7 & 8 students who don't continue with the Strings Program will participate will have instrumental tuition on another instrument agreed with the parents to ensure a rich creative music education program continues for them.
Creative Music Education
For students that don't continue with the Strings Program, classes cover the following:
Making instruments
Ukulele and singing
Marimba, percussion instruments
Guitar
Drumming