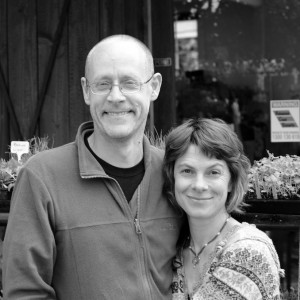 We live in a vibrant community, full of wonderful businesses, many of which are run and owned by parents from the Chrysalis School community. The fact that such a business community exists, providing us with access to such things as healthy food, eco-friendly builders, fabulous artists, a vast array of healers and much, much more, is all part of the reason people choose to settle in this valley. This year Emerge will be profiling a different business owner in each issue, investigating these wonderful, creative and persistent people who help make Bellingen the livable little town that it is today. For the Spring issue we spoke to Kevin and Lowanna Doye, founders of Kombu Wholefoods.  
So how did you end up in the wholefood business? Is that what you always saw yourself doing?
Lowanna:  I guess when people talk about the 'hinge' moments, for me it was an outback trip with my family. I am one of four girls, and we were doing a big Australian drive to Ayers Rock. One night we stayed at a farm-stay, a real outback working farm. That night I had a nightmare about an abattoir. And then we rocked up to breaky, they served us a breakfast of meat, this home-kill. Maybe I had subconsciously tuned into that, because I had had this dream. So I became a vegetarian at that moment. This began a long chapter in my life where I avoided all meat products.
How old were you?
It was my first year at university. My parents were very concerned. There was lots of fear from my mother, 'You might miss out, what about your brain." And there was lots of judgment from other people about how was I going to get my protein etc. That's where my self-schooling began.  I started to read books about nutrition and how to be well. I discovered a real passion for it. And to my surprise I found it very easy to remember. It was like I had a photographic memory for the first time in my life. It was easy. At school I didn't often have that – I wasn't so passionately interested. The other factor was a strong interest in environmental concerns.
From your university days?
Yes, but it had started before that. Actually, when I was at high school, I had set up an environmental group with my friends in Year 11.
Was that a big issue amongst your friends at the time?
Sort of. I just wanted to try and make a difference. It was pretty basic and not that sophisticated, but the reason I sharing this is that there was a real connection for me between vegetarian issues and environmental issues. A few years later at Newcastle Uni, I met a lot of environmental activists and started connecting with more really hard-core eco people. People who really walked the talk. And then I met this UK guy who told me all about this group called Undercurrents in Oxford. So I decided to go there and seek them out. I was actually born in Oxford. It had always been my plan to go there, but now I had another reason. Undercurrents were making a video magazine about environmental and social justice issues. My degree was in fine arts. It was just heaven for me. I could use my photography and film making skills from Uni as well as all my environmental interests, so it blended the two. And that is where I met Kev.
So how did you get to be there Kevin?
Kevin: It's funny. I've never really thought about it, but as I listen to Lowanna speak, there were two key things for me when I was young. I grew up in beautiful little village in England, where there was a vivisection laboratory.
They were doing scientific experiments on animals?
Yes. And most people just accepted it.
So how old were you?
Ten or eleven years old And I got involved more and more in campaigning against it. By the time I was 13 I would spend my weekends handing out leaflets at the local shopping centre. By the time I was 14 I was actively involved in trying to stop it. The animal rights movement in England was pretty strong. There were even people who conducted raids on the laboratory to seize documentation, or free animals. When I was 14 I was also going out 'hunt-sabbing' – sabotaging the fox-hunts by trying to get between the hounds and the fox. That would be my Saturday if I wasn't handing out leaflets!
What did your family think of your activities?
They told me I would grow out of it. Which, if there was a key moment for me, it would be the point where my mother told me I would grow out of it! That is something that still sits with me to this day. Whether to my benefit or detriment I'm not sure. For me, it wasn't about whether I was young. I just knew that it was wrong. I've always had a clear belief that I should actively try to stop things that I think are wrong and to support things that I think are right.
So you were a passionate activist from a very early age.
Yes, but for a while I did the opposite. After high school, my life became a little more conventional. I got married and got a job with customs. I had a mortgage and everything. Then there was my second key moment. One day I was driving up to London and I saw people camped by the roadside protesting and I stopped to find out what it was about. It turned out it was a protest against a motorway that was being bulldozed right through Twyford Downs.  An area of outstanding beauty, it is thought to be the site of King Arthur's final battle. Magically, stunningly beautiful and they wanted to carve a motorway right through the middle of the hill. The protesters were digger diving -using their bodies to stop the machines. I decided then to join them. Which began a whole process. I ended up splitting up with my wife, leaving the house, leaving my job, and moving onto the side of a hill. From there my life really began as an environmental activist. That eventually lead me to work at Undercurrents making films and I met Lowanna.
So how did you get to Bellingen from there?
Lowanna:  About that time I had another pivotal moment. One of the films I was editing a film was about global warming. While I was splicing all these shots together the narration was saying, 'The biggest contributor to global warming was aviation.' and I thought 'That's me! I'm an affluent Aussie backpacker flying around the world."  And I was living in Oxford where everybody cycles. You've got these Professor mums riding to work with three kids in the carriage behind. It's a really educated demographic who all consciously cycle, even in the rain. I loved cycling. So I decided, literally in that moment, to cycle home to Australia. I told Kev about it and he said "Can I come too?"
That's one way to test out your new boyfriend! (and a fascinating story too. If you want to explore Lowanna and Kevin's bike trip in more detail, visit these links: Beyond Flying (www.greenbooks.co.uk/Book/468/Beyond-Flying.html) and Bike2OZ (www.bike2oz.com)
Lowanna: Then when we got to Australia, I fell pregnant.  That was another key point for us, of course. If we didn't want to have children, we might not have set up Kombu, and we might be doing more cutting edge, high risk environmental protest stuff, but because I fell pregnant, this changed things. We wanted to bring up our kids on a community, out of a big city and grow veges. Living on shared land. Kombu is about trying to still be gentle activists. Something a bit more steady for raising a family.
Kevin: But those same core values are built into Kombu. We try to buy everything we can locally. We try to sell good food. We try to make it as affordable as possible.
A more pragmatic approach to activism?
Kevin: Exactly. You do as much as you can without killing yourself. We try to create the practical outcomes that reflect the change we want to see in the world. It's a business, so it has to be financially sustainable as well, but it's not there to make loads of money. We are trying to offer an alternative. We are not pushing it down anyone's throats.
Kombu turns 10 this year. That's a long time and you have been there since day one. How is it going for you personally after ten years at the helm of Kombu.
It can be exhausting. Deeply exhausting. Sometimes it feels like having extra twins that never grow up. I work much longer hours that I personally would like to. But I have a lot of rocket fuel for how I would like the world to be. That's not how I see it every day and that still drives me to give everything I can to create that better world. I still feel absolutely clearly about that, and I hope I feel that to my dying day. I love our community, I love Bellingen, so we try to hold it all. To create the best community we can.
Speaking of your dying day, and knowing what it's like to be an expat, do you see yourself being buried in Bellingen? Where do you want to lay your bones?
Kevin: One of the reasons we moved onto our community was that it has a private graveyard. A properly organised legit cemetery. I think it was the first private cemetery in Bellingen Shire. Part of moving onto that community, for me, was that I want to go back to the earth. I love it here and I would feel absolutely privileged to slowly turn back to earth on this land.
Now that was an answer I did not expect! Thank-you both so much for telling your story for Bellingen, How Did I Get Here?