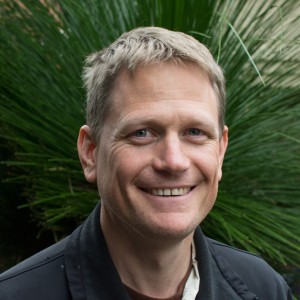 We live in a vibrant community, full of wonderful businesses, many of which are run and owned by parents from the Chrysalis School community. The fact that such a business community exists, providing us with access to such things as healthy food, eco-friendly builders, fabulous artists, a vast array of healers and much, much more, is all part of the reason people choose to settle in this valley. This year Emerge will be profiling a different business owner in each issue, investigating these wonderful, creative and persistent people who help make Bellingen the livable little town that it is today.
Geoff Tosio is from the Bellingen Solar Depot. He has lived in the area for the last three and a half years. Migrating here from Sydney, he has embraced life in this little town, mentoring youth as a Venturer Scout Leader, serving on the board of the Chamber of Commerce and helping to initiate the Bellingen Shire Electricity Alliance. I spoke to him about his journey here.
How did you come to be in Bellingen?
I came to know Bellingen because my father has been living in Fernmount for the past 13 years. So I've been coming here for holidays for a long time and I loved the whole area. I'd spent half my life in Sydney and wanted to get out of it, the rat race was all encompassing and expensive. 
Scouting was very important for me, growing up. I've always loved the outdoors, and I've been a Scout and a Scout leader for a very long time. I've also done a couple of big road trips right around Australia.
What age were you when you started Scouts?
I started as cub in Brisbane then I went Townsville and I was a Scout there, before coming to Sydney where I became a Venturer Scout. Eventually I trained as a Venturer Leader in Sydney, which I did for ten years. That was back in 2000.
What did you get out of being a Venturer Scout?
A love of nature. It was this indescribable effect due to connecting with nature – It balanced me. I felt more at peace. I felt my life had more value and I don't know why that was. I also felt connected back to something that I needed, that was necessary. Plus of course, adventure and adrenalin – both very attractive to a teenager of 15.
So you like adventure sports?
Yes, I am instructor for Bushwalking, Canyoning, Abseiling and Rock climbing, I also paddle Kayaks, Scuba dive, Sailboard and Snow ski.
That's quite a list. When did you start?
I started Abseiling and Rock Climbing as a Venturer Scout at 14. Some of the others I started later. In my late twenties I worked in the outdoor industry for a camping business called Paddy Palin. I worked nationally selling equipment for adventure sports dealing with large organisations and the government.
For my last trip around Australia I designed and built a camper trailer from the ground up, and I put a Solar system in it, so that's when I really got into stand-alone power systems. When I was travelling I got to Perth and stayed there for six months and I got a job in the Solar industry.
How did you get that job? You had no experience.
After some knowledge in the outdoor industry selling lightweight Solar products I then learnt a lot more building the trailer. I started off selling grid-connect solar which is pretty straight forward, this was during the time of the feed in tariffs.
The gold rush days?
Yes, they were good times, but in some ways it was a bad thing for the industry to go through because boom is quickly followed by bust, it was the 'Solar Coaster'.
Many people had to change industries to survive the quiet times and Bellingen Solar lost a large portion of its workforce. I'm happy to say the solar industry doesn't require those incentives any more, the costs have come right down so much and the industry can justify itself purely on the savings.
When I came back to the east coast I wanted to work in the Solar industry again, I was so passionate about it. But I did not want to get trapped in Sydney like I had done after the last trip around Australia. Sydney is just too expensive, too crazy, it's not a place to bring up a family or to have a good life.  So I said to myself "right that's it!" I packed up the trailer and all my things and came to Dorrigo. For a while I had no job or a place to stay, but something in my heart said that this was the place.
Pretty soon I had a business doing odd jobs, mowing and gardening plus woodwork and handyman jobs. That was three and half years ago. I have always been good with my hands and I got involved in the Dorrigo Men's Shed so that helped me get a few connections
Then Steve sold Bellingen Solar and he called me up and asked if I wanted to talk to the new owner, and before long I was working for Bellingen Solar Depot. I have loved it ever since.
I moved to Bellingen about 1 year ago and love it just as much as Dorrigo, it's faster and more involved. I love the intelligence and diversity of the people here, it's like Nimbin but with a university degree. I've met so many well meaning, intelligent, discerning people here that get involved in their community. So I have thrown myself into it all, as a Venturer Scout Leader, plus I'm on the board of the Chamber of Commerce, and I've helped start up a group called the Bellingen Shire Electricity Alliance.
What do the Bellingen  Shire Electricity Alliance do?
It's a group that's looking to increase the renewable energy production in the shire and also influence the community to conserve energy – to help the environment and our community financially. Myself, Donella and Paul Bryce who is a local retired university professor with 35 years experience in renewables, went down to Canberra to participate in the Community Energy Congress. We were one of 60 different community energy groups around Australia that are trying to get up and running.
Like Hepburn Wind, that big communally owned wind farm down in Victoria?
Spot on. Yes. These projects aim to draw on investment locally through superannuation or other means, they employ people to build, service and maintain it, they produce energy which is consumed locally and even sold locally through a community energy retailer. We want to localise the whole system. You can find us on Facebook and get involved – we'd love more people to come on board.
The fossil fuel industry spends millions of dollars lobbying politicians, basically misinforming them to their own benefit.
The fact is that we are moving away from a centralised distribution system, that's where we send energy out in one direction from a large coal fired power station to homes and businesses across thousands of kilometers of wires. The future system will be a distributed generation network where energy generation is embedded into the network. Here's 100 KW of solar, there's 50 KW of tidal energy, there's 1MW of geothermal energy, even micro-hydro, wherever the resource occurs naturally. This new system allows energy to be shared back and forth. The fossil fuel lobbyists want to tell us that they can't do this, that it's somehow difficult, but they can. It's already being done in many other countries, so the technology is available, but they want to maintain their monopoly of supply and distribution. Renewable energy threatens their business model and we have a federal government which is about protecting mining – which is crazy because China and many other countries are shifting away from coal.
Are we near the tipping point?
We are already past it. I could build a system in the valley tomorrow that could produce power far cheaper than the network can, but we need to spread that production overnight. So the next big growth area will be storage of energy and then there's no stopping the shift to renewables for base load production.
So if you dream forward to the Bellingen 20 years from now, what will it look like energy wise?
I think Bellingen will grow in size. Energy-wise I can see a massive change over the next 5-10 years, the whole of Australia will. We are going to see the next generation of batteries change the equation between off grid and on grid.
I have just designed and sold a large Hybrid Solar system up in Dorrigo for the Cork Trust called the Bielsdown Project. There will be a medical centre and 42 residences sharing a mini-grid system. This has Solar generation and batteries and uses a single grid connection to top it up during long cloudy periods, and then it sells the excess energy back in sunny periods. If there is a grid outage then they will operate independently while the town is blacked out.
They will also be net energy positive and carbon positive for the year, plus save over $45K a year in electricity bills, now that's the future!
Thank-you so much Geoff for sharing your story and your enthusiasm with "Bellingen: How did I get here?"