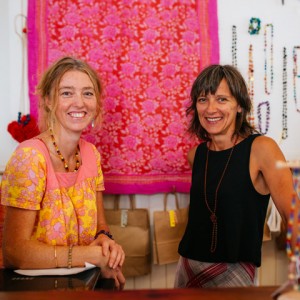 We live in a vibrant community, full of wonderful businesses, many of which are run and owned by parents from the Chrysalis School community. The fact that such a business community exists, providing us with access to such things as healthy food, eco-friendly builders, fabulous artists, a vast array of healers and much, much more, is all part of the reason people choose to settle in this valley. This year Emerge will be profiling a different business owner in each issue, investigating these wonderful, creative and persistent people who help make Bellingen the livable little town that it is today. Anna Jandzio and Tiffany Daro run Weave, a gorgeous art and craft supplies shop in Bellingen. It has close connections with Chrysalis Steiner School, having been originally started by parents in the early days. (In those days it was called "Soul Weaving") I began by asking Anna and Tiff how they came to be living in Bellingen.
Anna: Tim and I used to visit Bellingen before we moved from Sydney. We were doing reconnaissance, sort of casing the joint, and I would come into Soul Weaving. I loved the shop. I found that I could buy things that I just couldn't buy in Sydney. Anyway, there was this little sign up saying "This Business Is For Sale" done in rainbow colours and I thought, "Wouldn't this be a fun shop to own!"
How did you find out about Bellingen?
Anna: We had decided to leave Sydney and we were wondering about where to go. Our kids were attending Kamaroi Steiner School in Sydney and we were very happy with the education, so top of our list was that the town had to have a Steiner school. Anywhere south of Sydney was too cold for me, so we headed north on road trips to other Steiner schools. We would stop in towns like Byron or Mullum. Then by process of elimination, we thought let's have a look at Bellingen. That day we drove in and there was that little moment of, "Wow, gee, I think I could live here." Then we drove out to the school. It was funny, because we had this dream of the country life, but as we drove out, it was just after a flood and the river was lapping at Hobart's bridge. I remember being both scared at the wildness of the place but also thrilled. Then when we saw the school itself and it was just so beautiful, the thrill won out over the fear.
Tiff: We were similar. We were all packed up and due to move to Singapore any day and then suddenly the job fell through. We had moved out of our flat and had nowhere to live, so we thought lets get out of Sydney. We went to Mullum for a few weeks but it didn't feel right, then on the way back, we stopped here. Bellingen wasn't even on our radar, but it just felt right and a week later we were moved here.
When did you buy Weave?
Tiff: I was doing a lot of sewing, doing market stalls and suppling stuff to Gecko's. And I'd seen that sign at the shop too. I could so see the potential. I was thinking and dreaming about it for at least six months. Anna, and I were having coffee with another friend Liz McCabe and we were talking about buying a business.
Anna: For me Liz was like a catalyst in a chemical reaction. Liz and I used to run together, pounding the bush trails around Bellingen and we talked about all sorts of things. I knew Tiff but not closely and Liz brought us together, by proposing that the three of us buy the shop. It suited me because I was a lapsed craft person.
Lapsed craft person? Is that sort of like a lapsed Catholic?
Anna: (Laughs) I'm one of those too! No, I used to do a lot of craft as a teenager and then I lost it. I went way up into my head as an adult, and up into my head in the business world too. I've got a marketing degree but I had decided not to work in that world any more. So this idea brought lots of old skills together in a very serendipitous way.
You say 'Up in your head," does that necessarily imply that craft is 'down?' What does craft mean for you?
Tiff: My personality is to just blow with the wind. So if I'm not doing something like that, if I not cooking or crafting or doing something creative, then I'll just drift along. I know that when I am in those moments of creating something, I am grounded. I do feel more connected to something that's bigger than myself. Being a creative person, I want to create something, not just work with my hands. I want something beautiful. I like that I can dream up something and create it. It's also a mindfulness practice too. Like 'I'm going to set myself to do this everyday,' and rather than, say meditate, many customers decide to do this. That is one of the most amazing parts of the job. Enabling people to connect with craft at that deeper level.
Anna: Yes I've had the same thought. In some of my self deprecating moods I might think, 'I'm just a shop girl! And say to myself, 'Is this part of my grand plan?' but it's so much more than that.
Tiff: Yes, we get little snippets of people's lives, as they come through the shop. In terms of being a shopkeeper or a small business owner, it's pretty amazing to have this connection to their lives through craft.
Anna: You get insights into the human condition: the shop is brilliant for that. After the nth number of times you unpacked the boxes and input the codes and all of that, I can still be well compensated by the people I meet and the sense of engagement I feel. Personally, I don't do as much craft as I might like, but when I do, its not about the precision, it's about the focus. It's similar to what I get from running or cooking. Any task that brings me into a point of focus.
Tiff: Craft is not terribly valued though. I get caught up in it myself sometimes, asking myself. "What am I achieving here?" and I have to remind myself it's a practice and worthwhile in itself.
Is craft a men's practice at all? Do you see many men?
Tiff: At the moment we have looms set up as part of a community project to weave gifts for two of the teachers at school. And it's been the men that have really connected with it. The other day one of them said, "You're going to have to send me home if you want to close the shop. I just love this."
Anna: Craft generally is just an umbrella that can encompass all sorts of things. There are some crafts that are more appealing to men. We see fewer men for craft supplies but many artists come in and a few model makers.
Tiff: I remember my Dad was a big crafter. He used to go into his workshop every night and make these models. He was obsessed with Ned Kelly and used to weld these big Ned Kelly things. He did leather work, and funny little neck thongs and other hippy stuff. And you may not know, but knitting was originally a men's activity.
Anna: We are lucky to be in a community that largely values craft. In urban communities it's not the same.
What's that about? Do people get too busy?
Tiff: I think, from my personal experience, people feel that other things are more important. They think they have to read that article or research this… they're so driven. They think craft is a little bit quaint. The world's so super fast.
Anna: I was thinking about the head-heart-hands idea of Steiner. I think the superfast world only engages with part of our senses. It doesn't engage the 'doing' with our hands. We are meant use our bodies. Crafters often tell us that they use it to justify sitting down and relaxing, cause they are doing something. They allow themselves a moment. I think it's something that's missing in the fast urban world. They think "Why do I need to make it when I can just go and buy it in a shop?" But they're really missing something.
Tiff: Even just the tactile feel of the materials. Like wooden toys feel so different to plastic toys. The natural materials do make a difference. It's like digging in the earth. Walking on the beach. We are so lucky here because we get exposed to that day in, day out. The longer that you live here, when you go back to the city, you definitely notice that. It's hard, there's not a warmth in the materials.
Do you run an online shop?
Tiff: We do have an online shop. It's there. In the beginning I did spend a lot of time delving into social media and the other things that would make it work and I know that if I wanted to treat it like a whole other shop and put the time in, we might do a lot more business, but I think I just value my time with my family more. And my friends. I really don't want to spend that much time in front of a screen. I want to be in the 'actual' shop that I love.
Anna: I like the connection with the people, I like touching the stuff.
So is it worth it? Running a business in Bellingen.
Anna: For me it's the way we have decided to do business. I guess with my background in the corporate world, where I saw, on a daily basis, people motivated only by money, I see myself as flipping things around a little bit and being motivated by the other aspects, by the engagement with the community, by the doing something that is right, more so than making lots of money.
Tiff: I am so grateful to be working in this beautiful environment everyday along side Anna, we share the same values and thankfully it just works.
Thank you so much Anna and Tiff for sharing your story with "Bellingen: How Did I Get Here?"