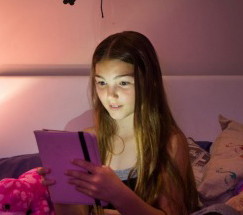 by Lucy Battersby: The Age online Oct 17th 2015
Age limits are arbitrary and parents must assess when a child has the social skills for social media, eSafety watchdog says.
Teyalee has two Instagram accounts, one is private the other is purely for dance. Teyalee opened her first social media account when she turned 10 years old. "I wanted to keep in contact with my friends in Darwin and school," she explains. She now has two Instagram accounts – one private account just for friends and one public to promote her dance skills. "The only other one that I wanted to join was SnapChat. I just think Facebook is too common for bullying and all that," she explains. All her friends aged between 11 and 13 also have accounts.
Teyalee sought permission from her mother, Lauren Trewin, who carefully explained the potential dangers of social media and monitors her activity online. They block anyone inappropriate from the public account and Teyalee takes down photos if her mother doesn't like them. Trewin admits she didn't know there was an age limit for Instagram, but neither of them recall having to tick an age box.
Asked why there might be an age limit, Teyalee responds with more wisdom than expected for an 11-year-old. "[At] 13 you are a bit more mature than what you are at 10 or 11. There can be people out there who can stalk you and see where you live and all that and people who are not appropriate for people under the age of 13, or even under the age of 20."
It is difficult to know what age is appropriate for children to open their own social media account. But what is clear is that expert advice – and even rules imposed by social media companies – are being largely ignored by parents and by children desperate to join their friends online.
While parents like Trewin allow social media accounts at a young age, others try – and fail – to delay it until the 14th birthday.
Technically, the minimum age for opening a Facebook, Instagram, Twitter, Pinterest, Tumblr, or Snapchat account is 13, while Kik users under 17 need parental permission. And it is even older for Vine, Tinder, Yik Yak and YouTube.
One cyber security expert bluntly states "kids can't be on social media sites" under the age limit. "All the good sites encourage reporting of under-age account holders. If I report a kid on Facebook or Twitter or Instagram, they would shut it down," Susan McLean says. She recommends family, friends and teachers report children under the age limit. McLean's concerns are primarily about keeping children safe from predators and cyber bullies. However, if you ask the man responsible for keeping our sons and daughters safe online, he will tell you the answer lies in your child's social skills and that 13 might not be old enough.