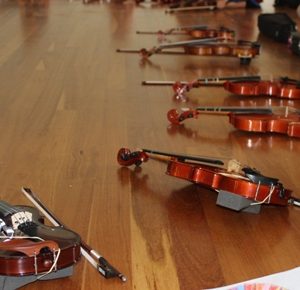 Almost 100 students between Class 3 and Class 8 from over 7 schools in the Bellingen area came together and made a big powerful sound together at Bellingen High School last Friday. The workshop was a great success!! Enthusiastic responses from some of the Chrysalis students included:
'It was awesome!!'
'It was really tiring but it was extremely fun!'
'It felt fun to be in the Youth Orchestra for the first time!'
Thanks to all of the Chrysalis Tutors who gave their time to be there – Natasha Dyson, Jacquie Gill, Tarni St John & Janelle Taylor, and for Class 5 Teacher Michele for looking after over 25 Chrysalis String Players who participated. Also thanks to the High School for hosting, Ann Phelan & Elizabeth Scott for conducting, as well as the BHS Senior Student Tutors (including previous Chrysalis students Mali, Freya & Nicholas).