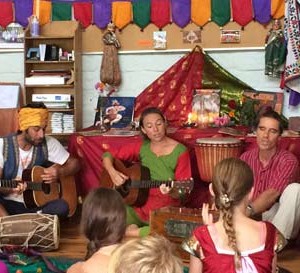 The week 4 assembly went sensationally. The hall was packed with around 40 parents who had taken the time to treat themselves to a morning with their children, to enjoy the performance and the inspiration. Class 5 set the space. Beautifully dressed in their fine saris and Indian clothes,  they called the parents into the hall by chanting the mantra that they have learned as part of their Indian Main lesson. Cathy welcomed Class 1 and their teacher Michelle Donovan to the Primary School. We also welcomed all of of our lovely new families that have arrived within our community this year. (We published the long list in the
week 2 newsletter.
Then Class 2, 3 and 6 entertained with their performances and afterwards parents got the chance to hear Rowena Parkes give her talk on the Three R's: Routines, Rituals and Rhythm, with one of the best attendances we have had for a talk in a long time.
But the fun had only just begun. Then it was time for the Kirtan and feast for the Class 5 community. Parents Jesse Lethbridge, Kate Butcher and Christoff Steinbeck  with some help on the sitar from Lucas Dollisson had whipped up a music performance for the Kirtan. The kids were looking stunning in their saris and the chanting and music culminated with a feast of Indian Food. We even have a short video  up on the school youtube channel.