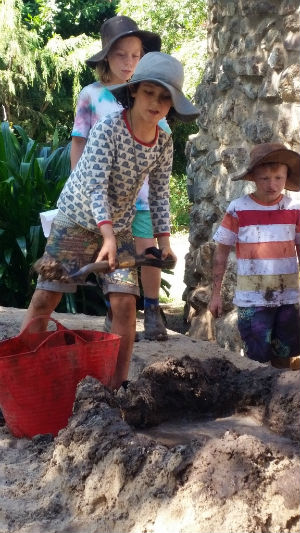 Term 1 started with the Animal Fables ML with the telling of more traditional Aesop fables to some that featured Australian animals. The lessons that arise in these very short stories often leave the children pondering a range of animal traits that reflect their own social world. The children enjoyed drawing, painting and reinacting these beloved fables.
The children's foundational literacy skills have continued to grow. From letter-sound correspondence, writing sentences, sight words, word families, phonic patterns and reading. They are encouraged to read their own bookwork daily and they have developed industriousness toward learning. Writing as a skill is developed through movement and is built up over time with the support of extra lesson, form drawing and beanbag work. Thank you to Alison for supporting the children in this process and for organising a standing desk in our room that benefits those who are busy on their feet.
In our Place Value ML, we started with math games where we developed the understanding of the role of ten in our number system. Using a range of concrete materials from beans, gems to paddle pop sticks the children were busy counting ones, bundling into tens then hundreds. They soon discovered the advantage of counting by ten, twenty, thirty, forty and then counting the remaining sticks one by one: forty-one, forty-two etc.
Although the class wasn't quite ready to stop counting we finished our term with our Local Surrounds ML. Taking the children on an adventure with Norman the Gnome down the creek to discover where the river flowed. He discovers many diverse animals and learns to trust nature's signs like a Southerly Buster and the reliable constellation; the Southern Cross.
From here we look forward to our sleepover in Term 2 and the inspiring curriculum of Celtic wonders, magic numbers and the many adventures that lie ahead.
Blessings to all,
Lyndal