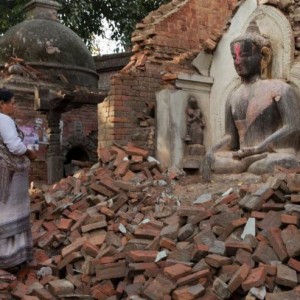 Report from the Tashi Waldorf School Nepal. If you can contribute, please contact Chrysalis Steiner School on 02 6655 8616. Donations will be channeled to Nepal through Steiner Education Australia.
Following the concerns shown by all of you about the devastating earthquake that took place in middle parts of Nepal, this brief report has been prepared to get you acquainted with current situation in Nepal and to thank you all for all the concerns that you have about us and also for the prayers you did for our safety and well being.
Before writing anything about the deadly earthquake, first let us inform you that the school is safe. Only the boundaries walls on two sides have been collapsed blocking the entry to the school building.No big damage or whatsoever has been done to school by such a terrible earthquake. Thank God for the same.
The school was supposed to reopen after the final term break on the 27th April Monday but already on the 25th April Saturday at about 11.55 am the terrible earthquake having 7.6 rectare magnitudes took place rendering millions of people homeless and many orphans and widows and widowers. Kathmandu, Lalitpur, Bhaktapur, Sindhupalchok, Kavrepalanchok, Lamjumg and Gorkha among others are the districts that were hit badly by the earthquake. Making the things bad to worse, after shock of 6.8 reactare magnitudes hit Nepal again on Sunday. Since then, we have been experiencing tremors of 5 rectare magnitudes on regular basis. We had more than 100 tremors of less than 6 rectare magnitudes until Wednesday. While preparing this report, a small tremor of may be 4 rectare magnitudes hit the Kathmandu city as the window panes of the room where we are writing this report are trembling suggesting us to write this report quickly and go to safe place.
All the teachers and staff of TWS are safe and fine. The earthquake has left us all devastated. Our confidence level has been badly shaken. We all are living with real palpable fear. It may take some more time to recover from the shock we went through during that dreadful moment.
As the school was having term break many of our students might have gone to their villages or might have been getting ready to come to Kathmandu when the tremor happened. We fear some of them might have the victims of the earthquake. We are effortful to know their whereabouts and situation through phones although telephone connection has been disrupted and difficult. Communication has been disrupted all over Nepal in one way or the other. The roads are blocked and there is high risk of landslides in the quake affected areas.
We tried to contact many of our parents but their mobile phones were switched off which apparently means the batteries have gone down and they found no other means to charge as the electricity has also been cut off. Almost all the parents whom we managed to contact said that their houses have been cracked and they are staying in temporary shelters.
We called more than hundred parents and could contact with only 9 parents who said that they are safe physically and living with difficulties. They do not know how long they have to do so. Parents of Phunchok Tshiring Sherpa, a student of Nursery informed us that their house has been collapsed due to the quake very badly leaving them homeless. They are also staying in temporary shelter.
Shirish Pahari, Caretaker of TWS was in Kathmandu when his house was destroyed by the quake in his village in Kavrepalanchok district. His mother and father escaped casualty only because they were working in their kitchen garden but his sister-in-law who was sick was caught under the rubbles. It took a long time to rescue her. Her hand is broken and leg sprained and wounded badly on her head. She was rushed to hospital in Banepa (Sheer Memorial Hospital) where she is undergoing treatment and is reported to be out of danger.
We definitely will be trying to find out the situations of our students and parents. Once the situation comes to normalcy we may be able to do that and accordingly a report about the same will be sent to you.
More than 80% of the houses in Kathmandu have been damaged and cracked by the earthquake. It is the same in all the villages hit by the quake. The houses in the villages are mostly made up of clay and brick, thus are destroyed.
The two villages in Gorkha and Sindhupalchok districts having about two hundreds households are said to have been vanished by the quake. Now only the remains are seen there.
Because of the narrow streets in Kathmandu, rescue team could not take bulldozer, cranes and excavator to affected areas. As a result of which many dead bodies buried by the debris and wreckages of the destroyed houses could not be taken out as yet. The case is similar in many villages. Helicopter could not land in many villages preventing rescue works. No one can really say how many more dead bodies are buried. The rescue teams from as many as 30 countries have been working at war foot but because of rainy weather and difficult geography their works have been very tough. On the other hand, after shock of less magnitudes are still coming. Due to which normalcy is yet to be restored even if people are trying. Everywhere temporary shelters have been erected with tents and plastics which havebeen their only source to survive. In many places tents have not been enough to make temporary shelter leaving the people to pass their under the sky. The nature has been unkind this time to add salt to injury by pouring untimely rain.
Due to decaying of not cremated dead bodies in Kathamandu and dead bodies and dead livestock in the villages, it is feared that epidemic can break out soon. Having realized this situation, more than 4 hundred thousands have quit Kathmandu and the trend is on the rise.
Kathmandu at present
The entire sparkling Kathmandu city now looks likes cremation area. Shops remain closed as of now ignoring the government's order to open. People find it difficult to buy essential commodities to survive. On the other hands, some people are black marketing such commodities. Some thieves have made this situation an opportunity to break into houses and steal. Public transportation has come to halt. Some private transport entrepreneurs also are taking advantages of this situation.
All the government and private hospitals are crowded with the injured persons. Some hospitals are treating injured people outside their premises under the open sky.Many cultural heritages in Kathmandu have been demolished by the cruel quake. Bhimsen Tower that used to stand nearby General Post Office has become a history. It is said that there were more than 150 people inside the tower and as many were waiting their turn outside the tower, when the tower collapsed killing more than 200 people. Many dead bodies are yet to be taken out. The whole area has started to stink making the rescue workers more difficult to work.
Similarly many ancient temples in and around the Kathmandu city have been destroyed. Some has commented rightly that Kathmandu is no more a historical city. A big temple in Patan Durbar Square was destroyed to heap of debris. Only yesterday two dead bodies could be taken out and it is feared many bodies could still be there.
We will update you with more news and photos when things are back to normal. It may take a few more days.
Hem Rai and RajenSyangden, TWS,KTM