So on to a glimpse at a very busy and full craft program that has been happening so far. I am very much enjoying getting to know class 1 and so far we have been busy embroidering our chair bags, embroidering mother's day heart key rings, wet felting Easter eggs and sewing bunny finger puppets for Easter craft. We have now finished these projects and will embark on weaving a bag for our recorders. I very much appreciate all the parent volunteers that have come in to help thus far. So many new skills to learn. If anyone else is able to sign up and help for the next few weeks as we start our weaving that would be fantastic. The more the merrier and so helpful for the little guys to acquire this new skill. Thanks in advance.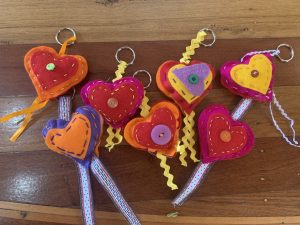 Class 2 are weaving away on their pencil case holders. This is a mighty project and they sure are doing a fabulous job. A wet felted picture for mother's day and Easter embroidered eggs filled our time too.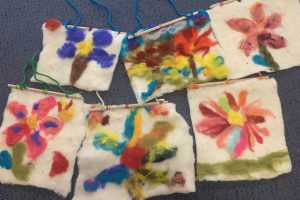 Class 3 have now completed their beautiful music bags and are ready for their next craft of learning and working with knots. This will be beneficial for their building main lesson and it is great to see them creating and digging in the playground so vigorously already. They are ready to get their hands dirty for sure. They also made a dry felted picture for mother's day and a beginner's pysanky egg for Easter craft.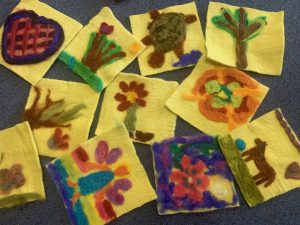 Class 4 have scrubbed, washed and embroidered the chair bags, giving them a new lease of life.  These bags are looking great and they are ready to start creating their Norse shield utilizing design, wood work, leatherwork and copper work skills. I sure look forward to seeing the end products.   They too created a pysanky egg for Easter craft and a mosaic pot plant holder and base for their flowers for mother's day.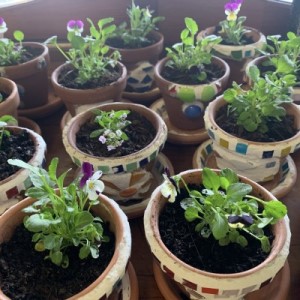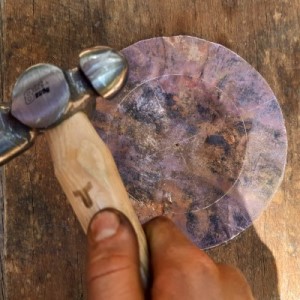 Class 5 have designed and created their own elephant which will be completed by the end of this term as well as a pysanky egg for Easter craft and dry felted picture for mother's day. A huge thank you to Karen Scott for all her work and support in this area. Karen is a craft genius and is so able and giving with her knowledge. Thanks for everything Karen.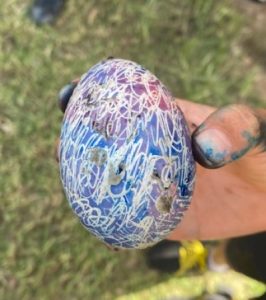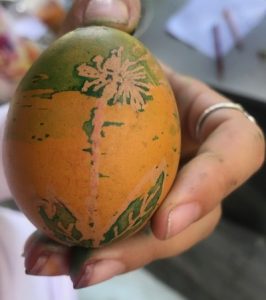 Class 6 are creating their own diary cover out of leather. Here they created their design for their front and back cover, stamped, beveled and dyed their work and will complete the project with attaching clips and lacing it all up. I have the amazing Johanna helping with this and we are so fortunate to be all able to learn from her expertise in this area. She has so much patience and ability in teaching craft and I am sure thankful to work with such a craftswomen. Thanks for everything Johanna.
Class 7 have embarked on the journey of learning the ins and outs of the sewing machine. They have designed and sewed a medieval banner with their own initial on in it, an illuminated letter and are now on to making a pair of pajamas from a pattern. Quite a feat but such great workers.
And lastly class 8 are weaving away on their individual projects on our beautiful rigid heddle looms. This is a beautiful slow, precise and methodical process which comes from pre-industrial revolution times and thus ties in nicely with the theme they started the year with. The projects the students have chosen to weave range across scarves, wall hangings, bags and rugs. We have just purchased a hinkle loom in which a student who has finished his rug will make a headband from. Such great work for the middle school adolescent to do in this world of fast internet and spontaneous gratification. It is quite the meditative activity.  
For both class 7 and 8 we have the amazing crafty Kerrie helping and guiding us. Kerrie comes with a life time of experience, knowledge and true love for all work in craft. I am learning so much myself each and every time I spend time with Kerrie. I really appreciate all she has to offer.
Very lastly, I would like to acknowledge Kamala who was the craft teacher before myself. Kamala gave the school so much passion, knowledge and guidance throughout the many years she was with us. I have a wonderful program which guides me that she has developed over the years. It is one that embodies grace, beauty and serenity. I truly appreciate all her work and devotion she gave to us all. 
That's it for me. I will no doubt see you all around town as I get to know the children of the whole school. What a great position to enjoy all the kids from.
Thanks to everyone. 
Warmly, Lynn