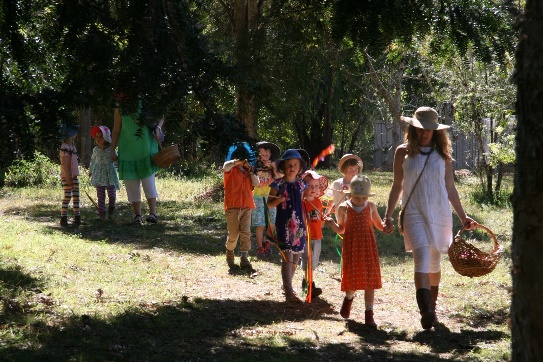 Wow, it is hard to believe that we have made it to the end of the year already and are now looking back at our time at Morning Star Kindergarten.  It is with joy that I have observed the children at work this year. Through their play they have been learning about themselves and the world around them.  From the start of the year to now, we observe the children in their play and note the development in their abilities to work cooperatively, negotiate, compromise, share and solve problems.  We work with the principles of restorative practice to develop understanding of how we relate to another person.  Through their lower senses (life, balance, movement and touch) the children make sense of the world and integrate it in their whole being.
As we look back on the year we have shared together we remember fondly the festivals that we have celebrated at Morning Star. At each festival the children enjoyed a seasonal puppet play with songs as well as a shared family feast.  As I write we are all looking forward to our excursion out to River Song for our combined dolly's tea party. 
Our nature walks have also been a highlight this year.  The children have enjoyed grazing on the fruit trees in the reserve and collecting natural treasures to place on the nature table and take home.  A new skill was embraced as the children sat and whittled away at the tree branches we collected. It was always with a sense of wonder that we took a sneaky peak at the bower bird's blue treasure trove and the gracious bower itself.
Of course the children have been busy working with their hands all year.  The skills developed through fine motor work, have allowed the children to create craft pieces that are both beautiful and functional.  From horse reigns to harvest bags, the children have handmade items to treasure over time. It is always a wonderful thing to make gifts for Mum and Dad too.
It has also been a highlight to observe the children entertaining each other with puppet plays.  We begin to see how the children digest the rich imagery from stories and morning circle time, and then play out these imaginative pictures through their own performances.
Now we are looking at term 4, and the end of the year is in sight. I can see how the children have grown and blossomed. They are stronger and more confident, they look towards the changes ahead and push to find where the boundary now lies.
I would like to take this opportunity to thank all the parents who have given over their time to help us at Morning Star this year.  We have truly appreciated your support. A huge thank you to Sam for your care for our class and for the support you gave to us as class carer.  I would also like to thank my wonderful colleagues Priya and Christoph, for their amazing work with the children.    
Lastly, I would like to send a big thank you to the children.  They will forever be my teachers.  I wish them all well on their next adventures and look forward to lots of waves at the bus stop next year.
Blessings,
Paige