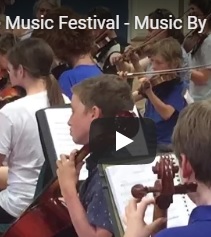 Here is the link to a parent's video of the final play through of 'Sinfonia in D' at the Bellingen Fine Music Festival Music By Youth Strings Workshop 1 with the Acacia Quartet. There were almost 50 students from Year 2 – Year 8 from six schools that attended the workshop. They sounded FANTASTIC! And although the Chrysalis students had to run to the buses quickly afterwards, they were all jumping about with energy saying things like 'that was so cool!', 'i'm so pumped!'.
There was a great energy that all the players felt and it was a really valuable excursion. The Acacia Quartet were able to impart much musical knowledge and the students just soaked it all up. All students were well behaved and they enjoyed meeting / hanging out with the other young string players in the area (as well as the delicious afternoon tea provided mostly by the teachers).
Thanks to Chrysalis for organising the students to attend! The Acacia Quartet was so impressed with the String Ensemble, they want the group to perform at the Fine Music Festival next year… what an exciting prospect!!
Cheers,
Jacquie Gill