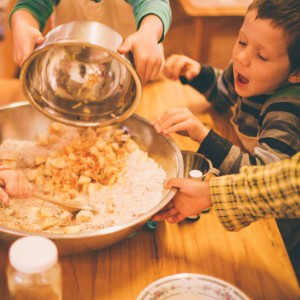 Try this simple but lovely recipe for an oatmeal slice to include in your children's lunchbox.
2½ C rolled oats    
¼ C ground almonds
90 g coconut oil    
½ c rapadura sugar
1 or 2 Tbs treacle
1 tsp cinnamon
¾ C flour
¼ tsp baking soda
2 eggs
1 C desiccated coconut
1 tsp apple cider vinegar
2 pieces of fruit eg apple and pear
Using a food processor, combine oats, almonds, vinegar, oil, sugar, treacle, cinnamon and flour.  Gradually add water to mixture until it forms a smooth paste, then soak overnight.  In the morning, preheat oven to 180°C and grease a baking tray (30 x 20cm).  Add the eggs, baking soda and coconut to the oats mixture and stir well.  Pour mixture into baking tray (it should be about 2-4cms thick).  Thinly slice the fresh fruit and arrange on top.  Bake for 45-50 mins or until top is lightly browned and skewer comes out clean.