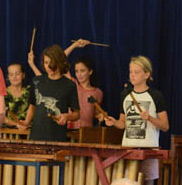 It is with much gratitude that we thank the visiting delegates from the Steiner Schools across Australia. For many it was their first time in Thora, for some their last visit was in the mid eighties!
Through their eyes we rekindled the wonder that this campus offers the children, staff and school community who live and work here. This was a special moment for both of us, as it offered the opportunity not to be complacent about this marvelous place at 703 Darkwood Road, Thora. The participants were amazed at the location of our school campus, impressed by the state of the whole school including vibrant classrooms, well kept campus and marvelous hall, and wowed by the musical performance of Class 7. They were appreciative of the artistic opportunity to learn music with Sean and Lucas and for the hospitality in general.
The delegates left here after rich deliberations and each and every person thanked us for hosting the biannual meeting at Chrysalis –  the first time in the SEA history. A massive thanks to all who supported and contributed to hosting the event.
Warmly and with much gratitude, Kelley and Steve