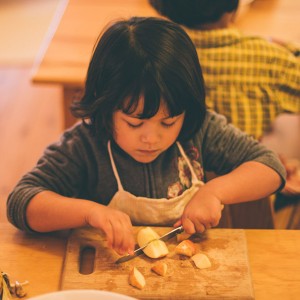 Nothing beats the fritter for a cheap and quick kids meal. This sweet corn fritter is a great place to start.
3 corn cobs
1 red capsicum
1 bunch coriander
4 spring onions
2 Tbs coconut flour
4 eggs
Salt and pepper to season
Finely chop coriander, capsicum and spring onions. Combine half the sweet corn kernels in a food processor with the eggs, salt & pepper blending for 1 minute or until the corn has broken up and formed a batter with the eggs. Pour this mixture into a bowl and fold in the rest of the ingredients. Note: any flour can be used and ingredients can be varied according to your taste.  Heat 2 Tbs of oil in a heavy-based fry pan over a gently heat.  Drop 2 Tbs of mixture per fritter into the pan and cook in small batches for 4 minutes each side or until firm and golden.  Makes about 8 fritters.
This recipe is from our most excellent Morning Star Lunchbox Recipe Book. You can buy this from Morning Star Kindy at the Bellingen Children's Centre or at Kombu Wholefoods. 100% of all proceeds go to support the Kindy. To see other lunchbox ideas follow this link to our website recipes page.