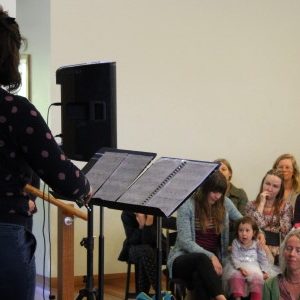 As Kym, the school's Music Coordinator, explained at today's music assembly as the students explore new instruments and genres, part of their learning includes bringing music that interests them to their tutors. Students have brought to the table music they are drawn to, and teachers facilitate a process of collaboration between ensembles. Today's assembly was just a taste of what is to come at this year's end of year concert, with quite a different concert format to the last three years.
Today we were blessed with solos from Erik on violin; Bridie (including an original piece) on keyboard; Xanthe wrote an original duet for violin which she performed with Jacquie; plus vocal performances by Class 7 students, Charlotte, Heidi and Anais; and an original song written and performed by Class 5 students, Juniper and Luna. Class 5 also sang a whole class piece followed by a body percussion performance. The Class 4 marimba ensemble made their debut, as did the Class 6 guitar and ukulele ensemble.
It is so inspiring to see our students embrace the new music program with tuition and ensemble work introduced with a variety of new instruments.