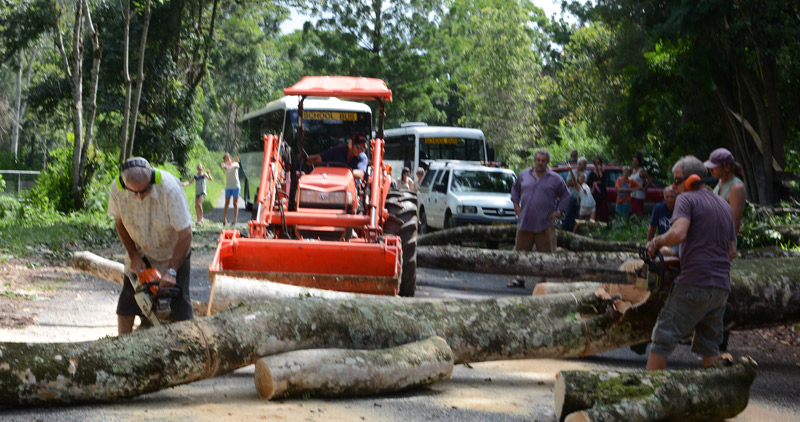 As you know, last Thursday, as the children were already loaded on the buses ready to head into town, a large tree trunk came down, blocking Darkwood road. The buses were effectively trapped on the school side of the fallen tree. In an amazing show of community spirit, the valley went to work to clear the road. Within minutes, Chrysalis staff were on-site to assess the situation and to see how best to assist in getting the road cleared and the children on their way. Sid Hazell from our maintenance crew, with the help of local furniture maker Russel Thompson were on the chainsaws, and with the welcome skills of Chrysalis parent Daniel Schreenan and his front-end loader, they managed to move several tonnes of timber within 35mins and get the buses on their way into town. This was an amazing effort. Shortly after this the council's workers arrived to complete the job.
Whilst the work to clear the road was happening, Chrysalis School launched a massive communication effort to contacting all the connecting bus companies,  update the school website and contact adults at each of the various bus stops  to share accurate and timely information. In addition, Chrysalis staff ensured that children on the buses were supervised and, where possible, let off the bus for some fresh air. Our duty of care to their safety was paramount.
Chrysalis does not yet have the technology to contact each and every parent in one fell swoop. Whilst this may be addressed in the future, we respectfully ask that all parents seek information from the school and via the website, as we have the ability to keep this updated regularly and this was indeed done by 3.15pm on Thursday.
All in all, Thursday's late arrival home was completely unforeseen and unavoidable and I truly believe that our school did everything reasonable to facilitate the swift return home for all school children. Whilst these occurrences can be a inconvenient and even cause anxiety for parents, please know that your child's safety and well being is at the top of the list. For those of you who haven't seen the fallen tree, I can let you know, that I said a little prayer of thanks, that the main drama on Thursday was only that the children arrived home late.
If you wish to discuss this further, please make contact with me.
Warm regards,
Steve