Many high students dream of gap years after they leave school, a few lucky ones get to experience a year overseas whilst still at school! That is the case for two fortunate Chrysalis Steiner School students who completed Year 8 at the school last year. Jude Quinn went straight from Chrysalis onto a 12 month Rotary exchange scholarship to Denmark in January of this year (along with Cadence O'Brien from Bellingen High School who travelled to France). Catrine Stachiw, also from last year's Chrysalis Year 8 class, and this year a student at Bellingen High School, has just found out she will be travelling to Finland for 2020.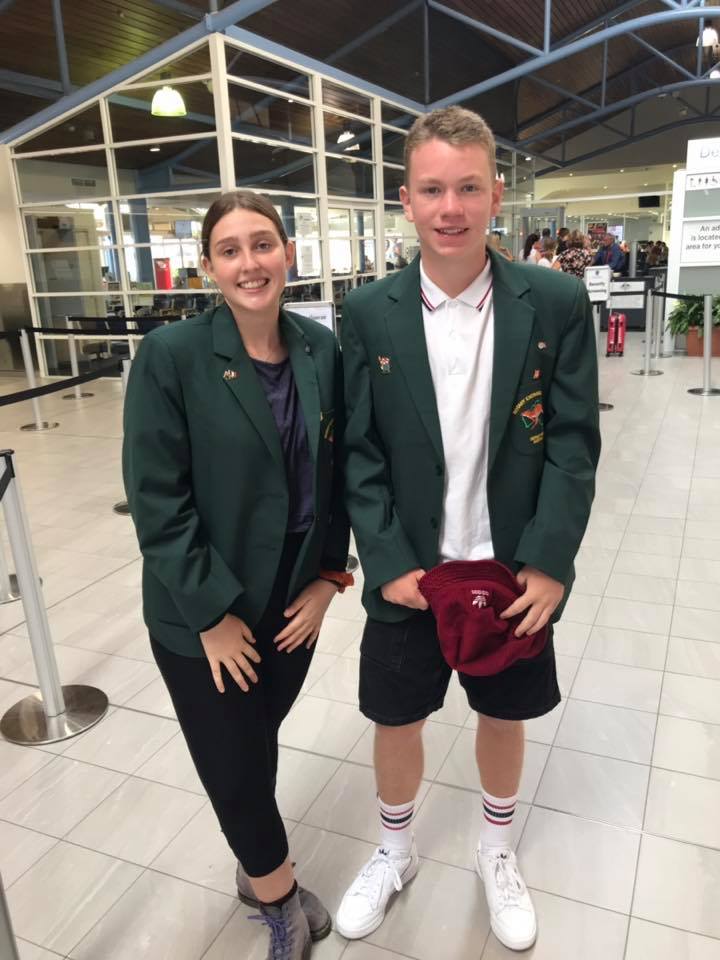 Cadence (BHS student) and Jude (Chrysalis Class 8 2018) at Coffs airport before their departure for Europe in January
A cornerstone of the Chrysalis curriculum is the Year 8 project. Students choose a final year leaving project where they engage with a mentor from within the community to foster their will and deepen their passion for their chosen project topic. This project is traditional in many Steiner schools worldwide and involves many facets of learning appropriate for this age. Jude undertook a program of mentoring in hairdressing, whilst Catrine focussed on photography.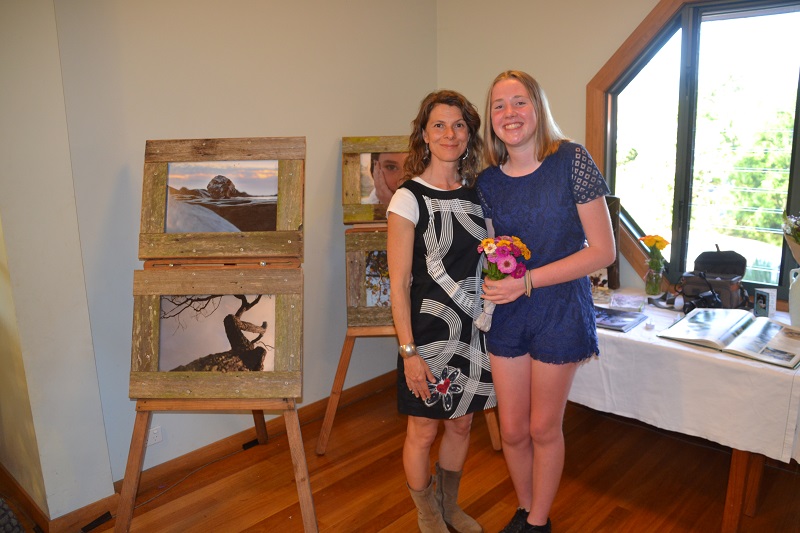 Catrine with her Year 8 project mentor, Lowanna, in front of her photography display table in the Chrysalis School Hall
Throughout the process of the Year 8 project the students are required to create a journal about their learnings, what challenges they have encountered and successes they have achieved, as well as prepare and deliver an oral presentation to the broader school community at the end of the year. Kelley McGlashan, Education Manager at Chrysalis, explained that "This project is not seen as a competition nor as a talent showcase, rather it is an opportunity for the students to learn from members of the community, learn the skills of project and time management, learn the keys to success in public speaking, and in particular to develop their own will and self discipline."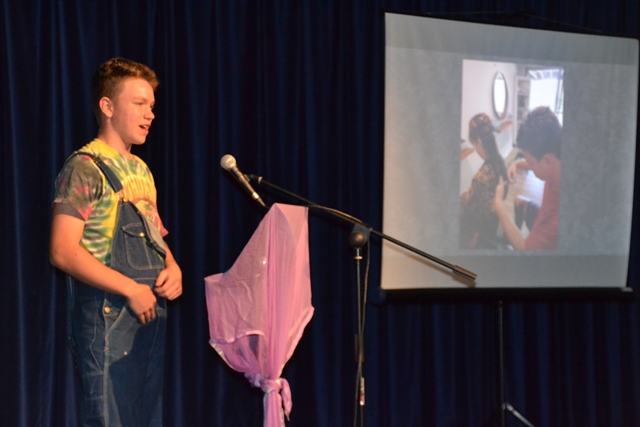 Jude mastering the skills of public speaking during the Year 8 project at Chrysalis
All of these attributes definitely assisted Jude and Catrine both through their application process with the Rotary Club, in their initial interviews, at their briefing weekends, and of course most importantly providing them the confidence and adaptability to travel on their own at the tender age of 15 to countries on the other side of the world, far away from their loved ones!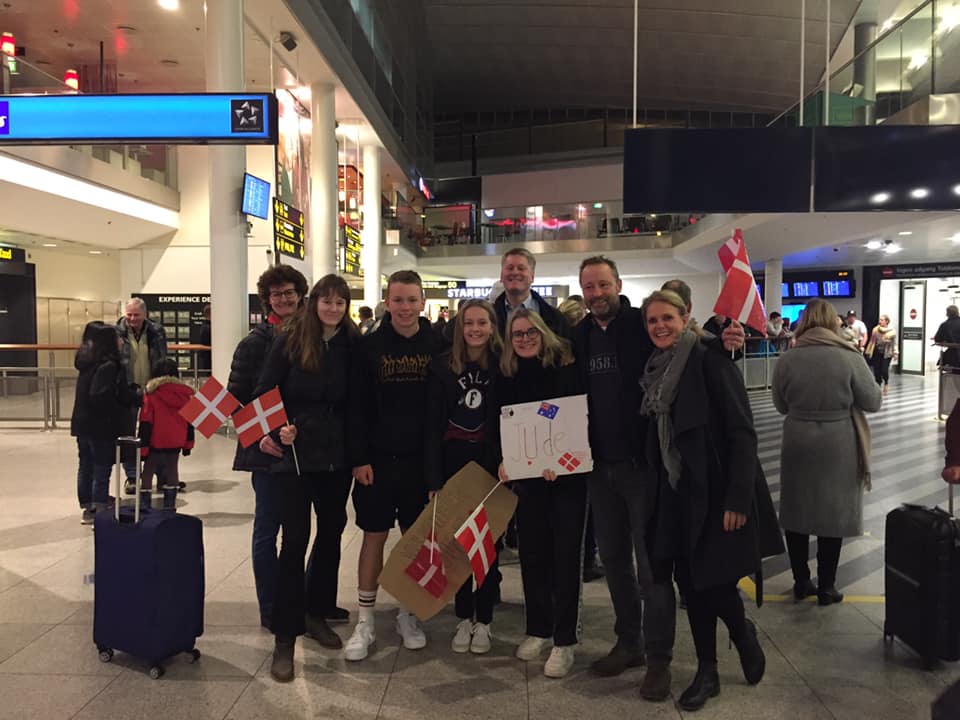 Jude receiving a huge host family welcome when he arrived in Denmark
It is fantastic to read about Jude's exciting time in Europe that he shared in his recent report to Rotary exclaiming "This month has been absolutely amazing. I went on Eurotour with 44 other exchange students from around Denmark and made some really close friends. During this bus trip we visited Berlin, Prague, Venice, Nice, Paris, Brussels and Amsterdam. I haven't had much time to write as I have been busy with all the exciting things to do on Eurotour!" His parents, Fiona and Gerry Quinn, shared with the school that "Jude surprised us at a Rotary meeting by thanking us for keeping him at Chrysalis until Year 8 despite his attempts to leave earlier!"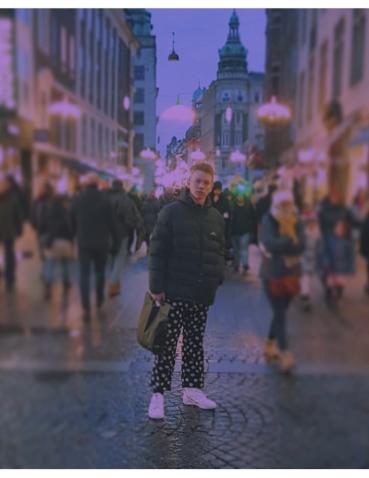 Jude embracing the European lifestyle and opportunities of travel at a young age!
Chrysalis offers a comprehensive, supportive curriculum for Year 7 & 8 students in what may otherwise be challenging years in mainstream schooling, and currently has a few vacancies in each class for 2019 and 2020 for those considering an alternative solution to meet the needs of their child. Year 8 projects in previous years have included works such as stop-motion film, motorbike restoration, musical composition, film-making, parkour course construction, horsemanship and costume design. Children leave Chrysalis with a sense of place and community, a passion for learning, and with abiding relationships. The world is their oyster!

The Chrysalis Year 8 of 2018 at the end of their project presentation evening
Catrine is currently raising funds to assist her to cover the costs towards her year abroad. On her crowdfunding page she shares "I am excited about going overseas for the opportunity to step out of my comfort zone, my daily routine and face the unknown. It will be life changing for me." If you can help her out, please go to: https://www.gofundme.com/fund-my-overseas-exchange-2020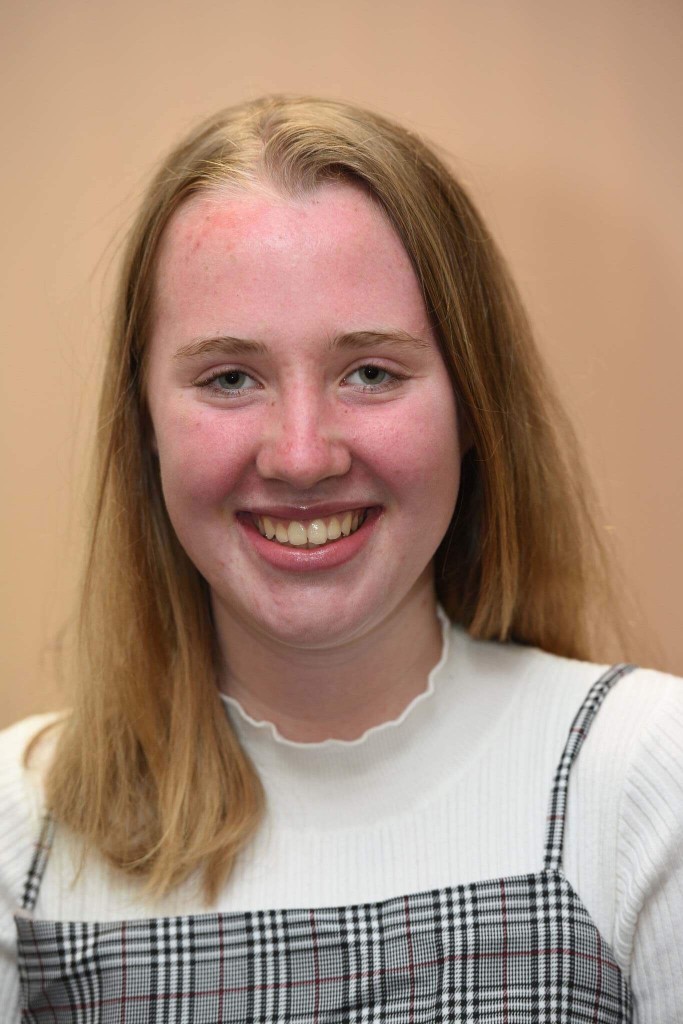 Catrine excited about the opportunity to travel to Finland in 2020