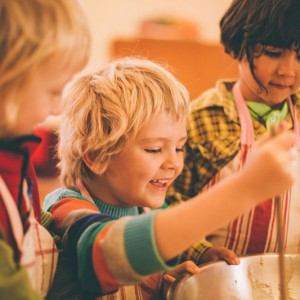 We wanted to share a few recipes from our most excellent Morning Star Lunchbox Recipe Book.You can buy this from Morning Star Kindy at the Bellingen Children's Centre or from Kombu. 100% of all proceeds go to support the Kindy. 
½ block organic tofu or tempeh
1 pack soba noodles (or Udon/rice noodles)
3 Tbs tamari
½ lemon or lime
2 Tbs unrefined cold pressed sesame oil
1 Tbs organic cold pressed coconut oil
½ C sunflower or alfalfa sprouts
1 C grated vegies
3 Tbs toasted sesame seeds
* Frying in olive, sunflower and many other oils is not recommended and is damaging to health.
Slice tofu 1cm thick and pan fry for about 3 mins each side in coconut oil. Drizzle with tamari as you fry (you could also marinate tofu in tamari, garlic and ginger overnight). Remove from pan and let cool. Whilst cooking tofu, cook the noodles and grate vegies of choice. Strain noodles and mix a little sesame oil through to prevent them sticking. Combine tofu, noodles, vegies and sprouts then dress with tamari, sesame oil, lemon juice and sprinkle with toasted seeds.
 
Optional: You could also use toasted tamari sunflower or pumpkin seeds, garnish with chopped herbs or also make a simple tahini dressing to mix through the noodles:-
1/3 C tahini, squeeze lemon juice, tamari to taste and a little warm water for the right consistency (not too runny as it can ooze out of lunchboxes and make a frightful mess).