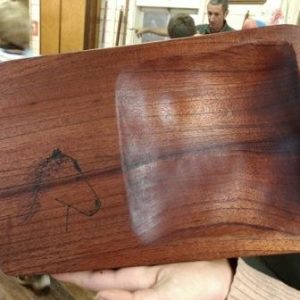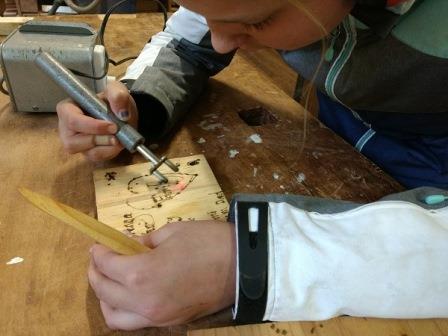 The woodwork program begins in year 5 and continues to class 8. Along the way students are introduced to the basics of woodwork and woodworking tools and gradually progress with an increase in complexity and difficulty of projects. A major focus of the program is to develop the WILL of the child. Taking a raw piece of wood and turning it into a beautiful object. This takes persistence, dedication and lots and lots of sanding. Along the way students learn the intricacies of wood and how to read its hidden secrets. Some is straight grained and easy to work, some cranky grained and more difficult but with beautiful features. They also learn to identify different species of timbers and their characteristics, i.e. smell, colour, density and shrinkage. 
In Term 2 this year Class 6 carved bowls/fruit platters/cheese boards
This project requires a lot of effort and persistence. Students have many variations to the platters, a half platter and cheese board, two or three holed platter and even triangular shapes. They are encouraged to create their own design and shape. The woodchips fly as the platters take shape, it's a frenzy of noise and activity during the initial 'roughing out' stage. Finally they start sanding which generally is an arduous task for most children. Every scratch and groove must be removed which can clearly be seen at the magic window. Finally they have progressed through 80, 120, 240 & 320 grit sandpaper and are ready to oil. We use grape seed oil which is edible and not susceptible to mould. Seeing the bowls come to life with the oil is a highlight for the children.