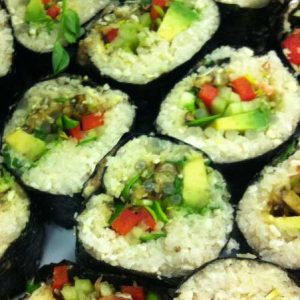 This is the sort of crafty recipe that is at the heart of a family kitchen. Last nights dinner turned into a tasty lunch!
Ingredients:
Rice – basmati &/or brown
Vegetables: corn, peas, sliced beans, diced carrots, zucchini, capsicum
Variations to serve with rice if desired: 
Cooked chicken pieces 
Cooked tofu (garlic and tamari is tasty)
Omelet
Instructions:
Cook enough rice for dinner with leftovers. Dice the vegies into small cubes & steam them lightly. Then simply mix the vegies through the rice in a large bowl or dish. The vegie rice gets served with tamari & the preferred meat or vegetarian option.
The transformation…
Leftover rice with vegies
Sushi vinegar
Seaweed sheets
Sliced extras if desired- eg chicken, tofu, beef, cucumber, egg, avocado
Add sushi vinegar to leftover rice & roll into sushi wraps, adding extras if desired.