Camp Creative are generous enough to offer our students the opportunity to win scholarships again this year. It is a wonderful experience and students from our school have been in many courses over the years.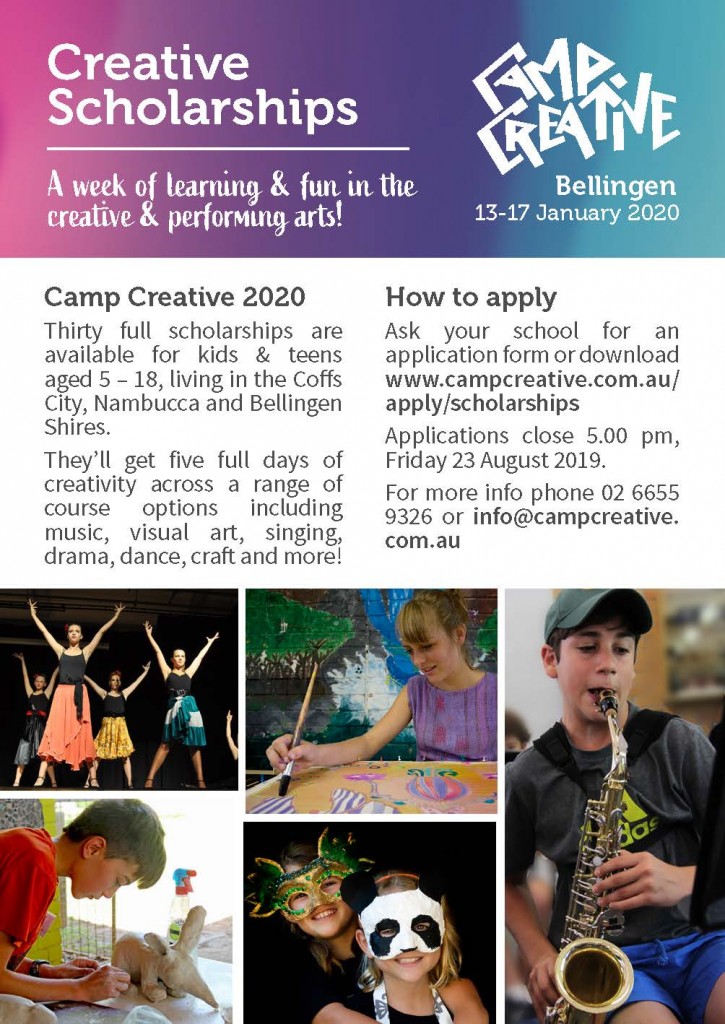 The 2020 Camp Creative scholarship program is now open for kids and teens aged five to eighteen, living in the Coffs City, Nambucca and Bellingen Shires.
The scholarships offer an opportunity to participate in a week of fun learning in the creative and performing arts. They'll get five full days of creativity across a range of course options, including music, visual art, singing, drama, dance, craft and more!
Camp Creative runs January 13 -17 2020 in the beautiful town of Bellingen. There are over eighty-two courses, with thirteen just for kids and teens, and many adult courses open to teens aged 14+.
Campers can develop their painting skills, play guitar or woodwind, discover their inner actor, release their singing voice, shimmy in a Bollywood dance or get hands on with a hammer and chisel – and so much more!
Scholarship recipients will receive a full day youth course.  This includes entry to a week of free concerts and events, with a highlight performance by internationally acclaimed concert pianist David Helfgott.
Some courses have some additional costs for materials, which are not included in the scholarship.
Applications close 5.00 pm, Friday 23 August 2019.
To apply, get an application form from your school or download an application form from www.campcreative.com.au/apply/scholarships
For more information, contact Camp Coordinators Rob & Michelle Stockton at info@campcreative.com.au or phone 02 6655 9326.