In 2020 Reconciliation Australia marks twenty years of shaping Australia's journey towards a more just, equitable and reconciled nation.
2020 also marks the twentieth anniversary of the reconciliation walks of 2000, when people came together to walk on bridges and roads across the nation and show their support for a more reconciled Australia.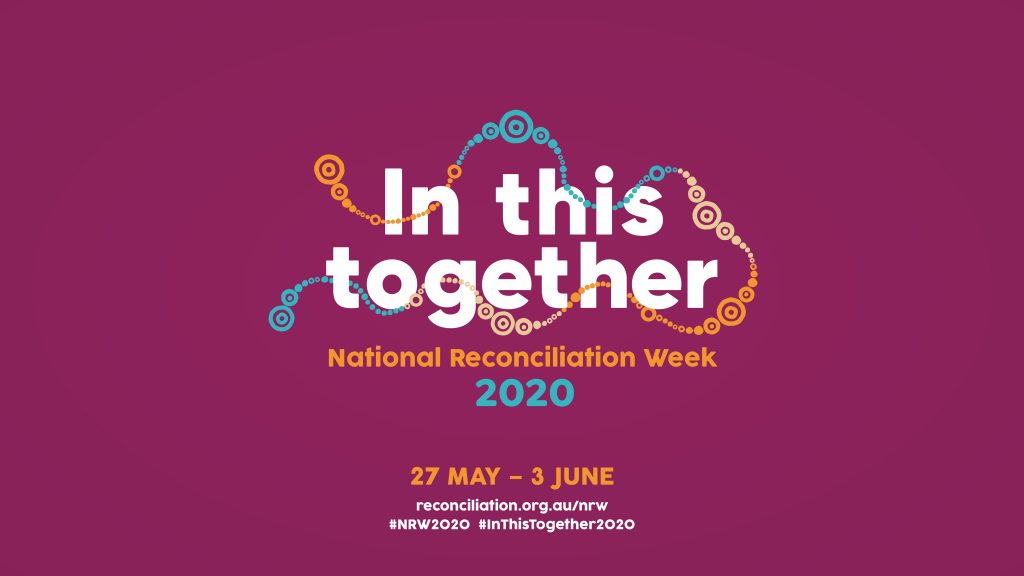 Reconciliation is a journey for all Australians – as individuals, families, communities, organisations and importantly as a nation. At the heart of this journey are relationships between the broader Australian community and Aboriginal and Torres Strait Islander peoples. We strive towards a more just, equitable nation by championing unity and mutual respect as we come together and connect with one another.
On this journey, Australians are all In This Together; every one of us has a role to play when it comes to reconciliation, and in playing our part we collectively build relationships and communities that value Aboriginal and Torres Strait Islander peoples, histories and cultures.
Resources and Links
sbs.com.au/learn/reconciliationfilmclub
The Imagination Declaration
In addition, we share The Imagination Declaration which asks us to imagine a future which empowers us all to work together and see solutions including those originating from the vast wisdom of the ancient cultures of this land. See below an excerpt from the Declaration.
 THE IMAGINATION DECLARATION: 2019
THE INDIGENOUS YOUTH FORUM and THE AIME TEAM: GARMA FESTIVAL, NORTHERN TERRITORY
To the Prime Minister and Education Ministers: 
In 1967, we asked to be counted. In 2017 we asked for a Voice and Treaty. 
Today, we ask you to imagine what's possible. The future of this country lies in all of our hands…………
We don't want to be boxed. We don't want ceilings. We want freedom to be whatever a human mind can dream. When you think of an Aboriginal or Torres Strait Islander kid, or in fact, any kid, imagine what's possible. Don't define us through the lens of disadvantage or label us as limited.
Test us. Expect the best of us. Expect the unexpected.
Expect us to continue carrying the custodianship of imagination, entrepreneurial spirit and genius.
Expect us to be complex. And then let us spread our wings and soar higher than ever before.
We call on you and the Education Ministers across the nation to establish an Imagination Agenda for our Indigenous kids and, in fact, for all Australian children.
We urge you to give us the freedom to write a new story.
We want to show the world Aboriginal genius.
We want to show the nation Aboriginal leadership and imagination.
Over the coming months we'll be sharing the Declaration with thousands of Indigenous kids across our nation and together we'll stand to say, "Set an Imagination Agenda in our classrooms, remove the limited thinking around our disadvantage, stop looking at us as a problem to fix, set us free to be the solution and give us the stage to light up the world".
We want the Imagination Agenda in every school in the nation, from early childhood learning centres through to our most prominent universities.
To our Prime Minister and Education Ministers, we call on you to meet with us and to work on an Imagination Plan for our country's education system, for all of us.
We are not the problem, we are the solution
———————————-
We also include two quotes from indigenous Australians working strongly towards a positive shared future.
But today I have no need of this word "identity"; not one that pits us against each other.
Exclusive identity can too easily lock us into positions of permanence and opposition — racial, ethnic, cultural, religious, gender — that don't speak to the reality of our complex and interwoven lives.
Instead of "identity", I wonder if we are not better served by identities, that open up to the world not shrink from it; that bring us into the sunshine of shared humanity and out of the darkness of our own misery.
Stan Grant, Australia Day 2019 
www.abc.net.au/news/2019-01-26/stan-grant-on-australia-day/10747000
"If you are coming to help me, you are wasting your time –
but if you've come because your liberation is bound up with mine,
then let us work together."
Lilla Watson, Gangulu/Birri Gubba Elder