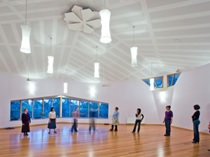 Melbourne Rudolf Steiner Seminar
What is Steiner education?  Do you want to become a Steiner teacher?
Call to arrange a Skype Information session for enrolling in 2018
Full time study in 2018
They invite individuals interested in Steiner Education and Teacher training to get in contact with them for a phone or Skype to learn about their full-time accredited course, the Advanced Diploma of Rudolf Steiner Education (course code 10527 NAT CRICOS 071548J).
There are still limited places available for this course, commencing early February 2018.
The Seminar has welcomed students from all states and territories of Australia and from around the world to study this course over the past twenty-five years.
Hear about this unique inspiring course and find out about the rewarding career and ample employment options that await – there is a great demand for professionally trained Steiner teachers in Australia and overseas .
Their full time course, based upon the philosophy of Rudolf Steiner is aimed at individuals seeking to become a qualified registered teacher, in order to work in both Steiner schools and/or the mainstream sector, and practising teachers wanting to shift their career to work in a Steiner school.
This course offers a pathway to a Bachelor of Education at Australian Catholic, Deakin and Charles Darwin Universities and the University of Technology in Sydney.  This is an accredited two year full-time course. VET Student Loans and Austudy are available for eligible students.
Where: The Melbourne Rudolf Steiner Seminar, 37A Wellington Park Drive, Warranwood, 3134.
 Email: office@steinerseminar.com   Phone: 03 9876-5199   Information:     www.steinerseminar.com
They also have a Facebook page (a video of our students talking about their experiences studying here):
https://www.facebook.com/waldorfteachertraining/videos/1418730441569433/
And an Instagram Account which has some lovely posts: steiner_teacher_training